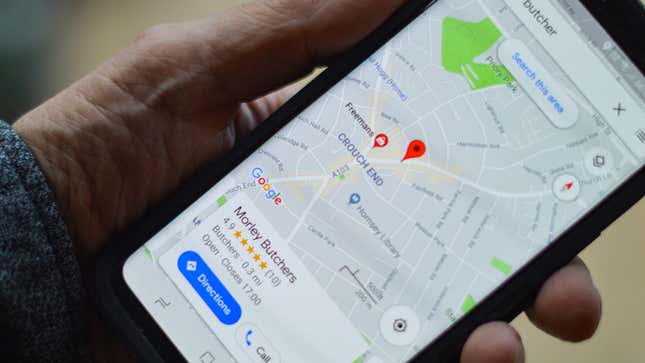 Google Maps is so reliant on pins that it uses one for its app icon. These helpful virtual landmarks exist to direct you not only to your destination, but also towards shops, bars, restaurants, and other places of note. You can also place your own pins, though the amount of options you have in both the mobile and desktop interfaces can get overwhelming.

Google's Antitrust Case Is the Best Thing That Ever Happened to AI
We've covered the basic and most common uses for dropping pins below, but here's how to create a permanent and fixed Google Maps pin for your own business. Note that you'll first need to register a Business Profile with Google and provide a few key details about what it is you do.

Drop a temporary pin on Google Maps
Drop a temporary pin anywhere on Google Maps clicking once on desktop or pressing and holding on mobile. You'll notice that a new information card pops up at the bottom of the interface, which might have an address on it (especially if your pin is on a recognized road) or might just have a "dropped pin" label.

If your pin is in a road and there's Street View imagery for it, you can bring up these pictures with another click or tap—you'll see a thumbnail that you're able to select. This is one way that dropped pins can be useful: To help you scout out a particular place before you visit it, or to check the details of a road junction.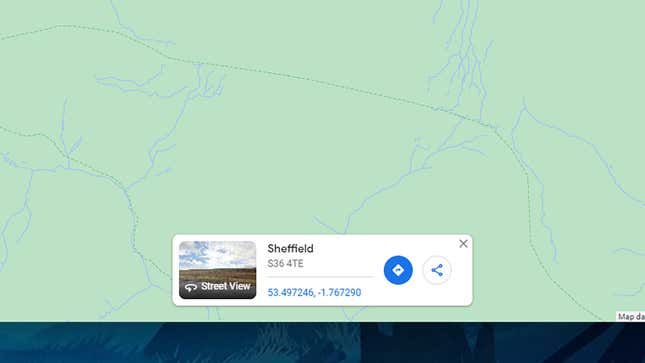 Click or tap on the dropped pin card and you'll see a host of other options open up to you. You can, for example, get directions to the pin, or send a link to this location to someone else. If something should be here on Google Maps and it isn't, you can choose Add a missing place to do just that.

If you're using Google Maps on the web, you can click Send to phone to send the pin location to a connected mobile device that you use the same Google account with. If you're using a Google Maps mobile app, you can tap Measure distance to see how far it is from this pin to another point (or several other points) on the map in a straight line.

Drop a permanent Google Maps pin
To get rid of a temporary pin on the map, just click or tap somewhere else and the pin disappears. If you need something more permanent—say it's an address you're going to be visiting a lot in the future—you've got a couple of options for fixing a pin on Google Maps that's always visible.

Once you've dropped the pin and brought up its information card, you can click or tap Save to log the pin in one of your lists of places. Google Maps gives you some lists to get started (like "Favorites" and "Want to go"), but you can also create your own—based around an upcoming vacation, maybe, or a hike you're planning.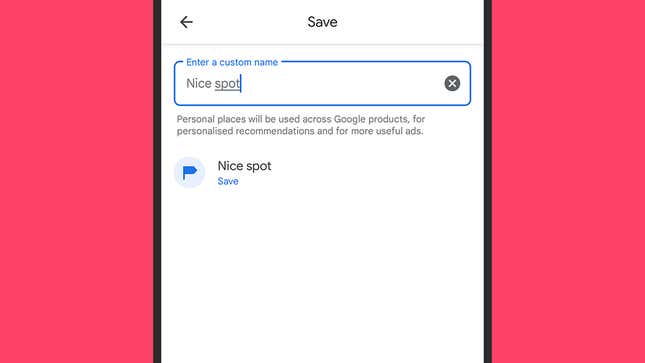 Instead of Save, you can also click Add a label or tap Label to give the pin a name: Something like "picnic spot" or "Ben's house" for example. This label will show up when you're browsing around Google Maps and it'll appear in search results as well—it's handy for a pin that you know you're going to be coming back to in the future.

No one else can see your lists or labels, as they're saved to your Google account—though you can make lists public if you want to. To see your lists and labels, click the menu button (top left) then Your places if you're on the desktop or Saved if you're on mobile. You can also make edits to your lists and labels from here if needed.

Drop a location pin to Google Maps
One other way that dropped pins can come in handy is to tell other people where you are and to help them find you, rather than to help you find somewhere else. From social gatherings to business meetings, it can often be useful to broadcast your location, and it's something that a lot of messaging apps let you do.

In this case, you don't actually drop a pin: You are the pin (or rather your phone is). Tap the blue dot that represents your location in the Google Maps mobile app, and you'll see a variety of options appear—including Calibrate, for improving location accuracy, and Save parking, to assist you in getting back to your car again.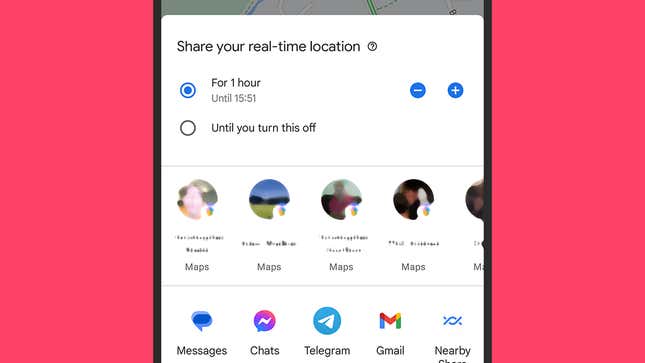 To give others an idea of where you currently are, tap Share location. First, you need to decide how long to share your location for: The minimum value is an hour, and the maximum is a day, though you can also share your location indefinitely until you come back to this screen and disable it again.

Then, you need to decide who to share this information with. You're able to share it with one or more specific contacts through Google Maps, and you can also send a link over any of the apps on your phone (an instant messenger or email client, for example). These links will open up in Google Maps and reveal where you are, and the location data will be updated in real time as you move around.