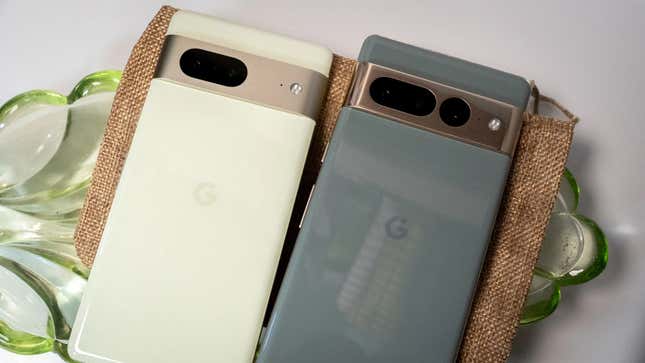 The Pixel 8 will apparently offer parents a new way to check their kids' temperature rather than sticking a thermometer in their mouth or feeling the child's forehead. According to leaked images from well-known rumor-monger Kuba Wojciechowski and 91mobiles, the next major iteration of Google's Pixel series will include an infrared heat sensor. Notably, this is also our first look at the phone itself outside of renders.
How Good is the Battery Life on the Pixel 6a?
As shown in a video that seems to be an internal demonstration of the feature, the heat sensor is located in the camera bar, towards the right side of the phone. Users can point the camera close to their head and rotate it toward their temple to see if they're staying at a healthy 98.6 degrees.
After the video was up all morning, YouTube took down the video saying it was against its terms of service.
This feature could be used in other apps to find the temperature of external objects as well, though it's interesting how the sensor needs to be held so close to an object to read it, and how long it takes to get an accurate reading. It could be a push toward more health-related apps, as Apple has similarly pushed toward body and temperature scanning. Whether this feature could be useful information for Google-owned Fitbit or another fitness watch is another story.
We've already seen signs of this new sensor in leaked early Pixel 8 Pro renders, but there's been nothing official from Google itself. Images so far seem to show the company is making the phone's corners rounder while retreating from the 7 Pro's slightly beveled display. The leaked images also show that Google is reportedly sticking with the single rear bar for its camera mount, though the Pixel 8 could have all three camera sensors within one module compared to the 7's two.
Though the tech giant recently showed off its new Pixel 7A and the Pixel Fold, the latest I/O conference didn't offer any hints about what to expect from Google's next version of its mainline smartphones. Google likes to launch its phones in October, so there's still a good few months for the company to make waves. Other rumors hint Google's next phone could run on the company's own Tensor G3 chip. The $1,800 Fold, with all its expensive screens, still only runs on the older G2, the same chip that powers the 7 and 7A. A new processor could help power the new camera plus extra sensors, though we'll still have to wait and see.
---
Want more of Gizmodo's consumer electronics picks? Check out our guides to the best phones, best laptops, best cameras, best televisions, best printers, and best tablets. If you want to learn about the next big thing, see our guide to everything we know about the iPhone 15. Click here to save on the best deals of the day, courtesy of our friends at The Inventory.
Update 05/18/23 at 1:23 p.m. ET: This post was updated to include that YouTube took down the original post.