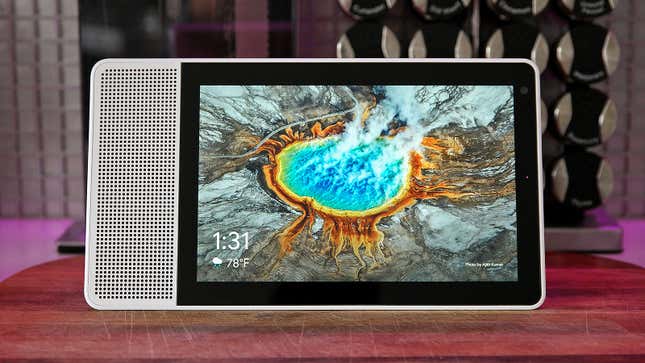 Google does not plan to update third-party smart displays in the future. If you own any of the Lenovo, JBL, or LG-made smart displays that have come out over the past five years, it's time to consider alternatives for your Google smart home. Another reason to be wary of being a Google early adopter.

How to Hide Your Sensitive Images in Google Photos
The reveal comes from 9to5Google, which discovered this unfortunately listed caveat in an official Google support article for making Duo calls (RIP) on a smart display:
Important: Google no longer provides software updates for these third-party Smart Displays: Lenovo Smart Display (7″, 8″ & 10″), JBL Link View and LG Xboom AI ThinQ WK9 Smart Display. This could impact the quality of video calls and meetings.
This sucks! These displays may technically be third-party, but Google itself introduced these smart displays when it first debuted the Assistant on screen, and pitched them as the way to interact with it. Initially, the company led its smart home foray with smart speakers like the Google Home in 2016. Then in 2018, it partnered with Lenovo to launch its first batch of smart displays: the Smart Display 8 and Smart Display 10. They arrived at a time when Amazon's Alexa was the only digital assistant with a screen—useful in answering questions, helping you through complicated recipes, and displaying casted content.
The kicker for me is that Lenovo's smart displays are still useful, especially for playing music. The 10-inch Lenovo Smart Display, which currently sits on my kitchen counter, has dual 2-inch, 10-watt speakers. And the 7-inch Lenovo Smart Display, released a year later, has dual 5W stereo speakers, which my kid uses to rock out to her favorite songs in her room. These speakers are great for pulsing multi-room audio—even after Google had to change how it works because of the Sonos ruling. But even though the hardware still works, it's bound to become e-waste as updates leave it behind.
Despite being so young, the writing was admittedly on the wall for these third-party devices, but only for those who were paying close attention. The Lenovo-made smart devices and the other two options from JBL and LG ran Android Things, which was Google's original push for interoperability between its connected devices during the Internet of Things boom. But Google shifted its focus away from developing for Android Things around 2019, and killed it in 2021. When it later introduced the Nest Hub Max and second-gen Nest Hub, they were more focused on sleep and wellness rather than positioned as pure smart home controllers.
Still, considering how long Google's been supporting later-gen Nest security cameras, I thought it'd be fine to hold out a while longer.
The real nail in the coffin here, preventing legacy support even as the company moves to a different strategy, is probably that Nest devices run a slightly different operating system from third-party smart displays. They feature Google's Fuschia OS, which never got announced publicly but has been making the rounds throughout the Android blogs and other developer-centric spaces over the last couple of years.
Whatever the reason for these devices going the way of the Dodo, they're a great example of why it's getting harder to suggest that folks buy into any new Google-supported device if there's no guarantee the company will support it long-term (RIP Stadia). Those third-party smart displays seemed like a sure bet when they came out, and they even helped Google increase its market share relative to Amazon and Facebook's Portal devices (those have also been killed off for consumer use), though only by about 6%—maybe that's why Google didn't see the point of continuing to offer software support.
I reached out to Google for a more official understanding of what's happening here and will update you when I hear back. For now, I need to figure out what to do with this Lenovo hardware peppered throughout my home—I also have two Smart Clocks and rely on them to wake up every morning.