The burgeoning fight to bring tech workers' employment issues out of the darkness and into the public light grew further on Monday as a group of Google employees demanded the industry eliminate forced arbitration agreements entirely.
On November 1, thousands of Google employees walked out of their offices around the world urging the company to address a number of demands that would lead to a more inclusive work culture. Among their demands was a call for Google to end forced arbitration agreements for harassment and discrimination cases. About a week later, CEO Sundar Pichai announced that the company would acknowledge only part of that demand—sexual harassment and assault claims, and only for full-time employees.

Googlers aren't satisfied.
On Monday, four Google employees—program managers Tanuja Gupta and Sophie Gerrick, staff linguist Vicki Tardif Holland, and software engineer Tory Voight—published a statement on Medium calling for an end to forced arbitration agreements not just at Google but across all of tech.
The statement noted that the walkout organizers' demand around forced arbitration wasn't fully met: discrimination cases around nationality, religious, gender, sexuality age, and other identifiers are still bound by arbitration; temps, vendors, and contractors may still be bound by arbitration depending on their recruitment agency's terms; and employees are still prohibited from pursuing a class-action lawsuit for any claims.
"Six weeks ago, 20,000 Google employees and TVCs (Temps, Vendors and Contractors) walked out to protest discrimination, racism, sexual harassment and a workplace culture that only works for some," the Google employees wrote in the Medium post. "One week after the walkout, our leadership team responded to our five original demands with a handful of partial policy changes. The other 'changes' they announced simply re-stated our current, ineffective practices or introduced extraneous measures that are irrelevant to bringing equity to the workplace."
G/O Media may get a commission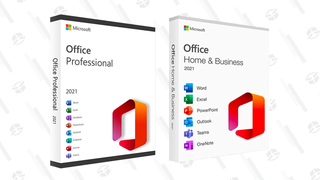 89% off
Microsoft Office Professional 2021 Lifetime License
Forced arbitration is the practice of requiring workers to settle disputes privately, rather than before court of law. The agreements are often secret. While employers who use forced arbitration argue that the arrangement is good for employee privacy, it conveniently can keep specific internal issues from becoming public relations disasters for the companies themselves.
The Medium post also listed a number of "ill-defined" issues around forced arbitration following Pichai's stated changes, including the claim that Google employees in the U.S. "still have the arbitration waiver in effect," and employees still haven't "heard of any plan to render these waivers null and void."
The Google employees also claimed in the post that since the walkout in November, tech workers from more than 15 other leading companies have reached out to share their experiences. "Today we ask all our fellow workers industry-wide to join our fight to end forced arbitration," the post states, which includes a link to a Google doc for tech workers to fill out if they want to join the coalition to end forced arbitration. "2019 must be the year to end a system of privatized justice that impacts over 60 million workers in the US alone."
Following Google's lead, Facebook opted to end arbitration for all employees and contractors in sexual harassment and assault cases early last month. Microsoft and Uber both made similar changes to their respective arbitration policies last year for full-time employees. Meanwhile, thousands of Uber drivers, who are considered independent contractors rather than employees, have weaponized their arbitration clauses against the company in a gambit that could cost it millions.
Though not among the initial signees, one veteran Google engineer—Liz Fong-Jones—successfully raised $100,000 toward a "strike fund" in the event of another major work-stoppage at Google. She's vowed to quit the company by February 1 unless "leadership seriously changes its practices and incorporates employee representation and accountability from the board level."
---
Correction: A previous version of this article incorrectly stated the date of the Google walkout. It took place on November 1, 2018. We regret the error.