It was an exciting week here at Gizmodo, where senior editor Jennings Brown launched our first investigative podcast—a deep dive into one of the darkest spiritual movements on the internet—and senior reporter Kate Conger capped off nearly three months of reporting on Google's work on Project Maven, a Pentagon program that aims to supercharge analysis of images captured by military drones with the help of artificial intelligence.
But those are just two of the many excellent developments from the past week. Here's a rundown of the best stories Gizmodo has to offer, from YouTube Music's struggles to the iPhone X's biggest flaw, to the real problems with Ambien that have nothing to do with Roseanne Barr.
Google will not seek another contract for its controversial work providing artificial intelligence to the U.S. Department of Defense for analyzing drone footage after its current contract expires.

Google Cloud CEO Diane Greene announced the decision at a meeting with employees Friday morning, three sources told Gizmodo. The current contract expires in 2019 and there will not be a follow-up contract, Greene said. The meeting, dubbed Weather Report, is a weekly update on Google Cloud's business.
G/O Media may get a commission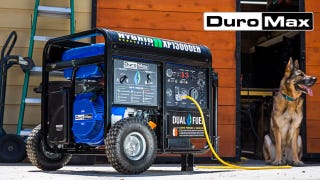 Black Friday Sale
DuroMax Generator Sale
Google's decision to provide artificial intelligence to the Defense Department for the analysis of drone footage has prompted backlash from Google employees and academics. Thousands of employees have signed a petition asking Google to cancel its contract for the project, nicknamed Project Maven, and dozens of employees have resigned in protest.
Teal Swan is an internet spiritual guru who produces hypnotic self-help YouTube videos aimed at people who are struggling with depression and suicidal thoughts. Many of her videos share unorthodox messages about mental health with her hundreds of thousands of fans who follow her on Facebook and Instagram, and in person.
In April 2017, I noticed that Teal Swan's videos kept popping up in my YouTube recommendations bar. The videos took on a wide variety for topics, from internet addiction to nervous breakdowns to cryptocurrency. 
When I finally clicked one, I was both transfixed and unsettled. I started looking into the effect she has on her followers, and why she's being accused of promoting suicide and running a cult. I went deep within her online devotee communities and traveled to her retreat center in Costa Rica to try to understand this new spiritual movement taking root on the internet. There, I met many of her dedicated volunteers working for her spiritual startup—basically a digital media company creating more content to spread her teachings.
It's not your fault, but it is very likely that you're using the wrong HDMI cord to plug that 4K Apple TV or PS4 Pro into your new TV. While you might have assumed that all HDMI cords are equal they are, unfortunately, not. And if you have the wrong cable, you could be missing out on the best features of your TV—or whatever you're trying to plug into it. No HDR, no wide color gamut, no high frame rate for your sports and games. But don't worry. If you know what to look for, it's actually pretty easy to find the right cable.

After trying and failing to launch a competitive music streaming service for years, Google released YouTube Music last month. You might've thought Google's latest attempt to compete with the likes of Apple Music and Spotify would've pushed forward with new ideas. Nope. A quick browse through the app reveals that at the moment it's simply a lackluster Spotify clone.
You know what's about to go down, don't you? No? Well get ready to charge your iPhone, empty your wallet, and renew your developer account, because Apple's Worldwide Developers Conference is right around the corner. This year, WWDC 2018 runs Monday, June 4 to Friday, June 8, at the McEnery Convention Center in San Jose, California. The keynote kicks the whole thing off at 10am Pacific time Monday morning.
We're expecting to see some notable—but not groundbreaking—updates to Apple's software platforms like iOS and macOS, as well as a more affordable notebook, if we're lucky. For now, let's take a little journey through what we think Apple might debut at its annual conference (and what it probably won't).
Yeah. That happened. And here's why the writers of Solo: A Star Wars Storydecided to do such a shocking thing.
(If you haven't seen Solo: A Star Wars Story yet, we're about to discuss the film's biggest spoiler. So beware).
Last night, Soros truther and former hit ABC star Roseanne Barr penned a barrage of tweets attempting to explain some recent racist, paranoid tweets that got her namesake show cancelled. Among the explanations she offered, such as it being Memorial Day, she alluded to tweeting while taking the sleep aid zolpidem, commonly sold under the brand name Ambien.

The company's US branch tweeted Wednesday morning that while "all pharmaceutical treatments have side effects, racism is not a known side effect of any Sanofi medication." It was a tweet that quickly got people cheering on the company, and even seemed to raise its stock prices a bit.
But though Barr's defense is flimsy, given her long history of inflammatory, false, and bigoted rhetoric, it's also true that zolpidem really can seriously impact users, according to countless reports from patients who say the drug caused them to behave erratically and out of character. Those risks are even greater for women taking the drug, according to the FDA.
The iPhone X is easily the best phone I've ever owned. And in almost every way, it performs exactly as I would like it to. There is just one problem, a thing that might seem so minor as to not be an issue at all but is the one thing that regularly makes me contemplate chucking my $1,000 gadget against a brick wall.

Not too long ago, I took a look at some of the most popular gaming headsets under $100 to figure out which one was best. And while my opinion hasn't changed, there is one feature even our top-ranked headset didn't have: wireless audio. Typically, wireless sound is a feature reserved for more expensive devices priced between $150 and $200. But on the Corsair's new HS70, you can get solid wireless audio for just $90.

Between the success of Black Panther and female-fronted projects like Wonder Woman, it seems like diversity and representation in front of—and behind—the camera has finally become increasingly important to filmmakers and audiences alike. But self-described "bionic actress" Angel Giuffria is waiting for more. She hopes this will be a tipping point, where eventually people will start to see more characters like herself on the big screen: people with disabilities.
If you're an Android user, grab your phone, pull up Google's Search app or Google Assistant, and type "the1975..com" into the search bar to see a bizarre and recently discovered bug that will show your most recent text messages.

The glitch, which was first pointed out by a redditor posting on the Google Pixel subreddit, results in Google's Search tool displaying recent text messages sent by the user. Google is already aware of the bug and is addressing it, but for the time being, you can still prompt the odd response by typing in a number of misspelled phrases.