Yes, it's action cam season. Sony's entered the market, Contour has updated its line with the Contour+2. But what about the latest from the brand that's come to define the category—the Kleenex of action cams, if you will?
We've been putting GoPro's highly anticipated Hero 3 Black edition through some rigorous testing. And it seems pretty safe to say it's still at the top of a very rugged mountain.
Note: When we first reviewed the Hero 3 Black the firmware was not yet final. This review has been rewritten to reflect the updates, which are now live.
What Is It?
GoPro's most feature-packed action camera to date.
Who's It For?
Boarders of all types, skiers, bikers, drivers, divers, base jumpers; you get the picture. Basically anyone who spends time outside, and wants to share it with the world.
G/O Media may get a commission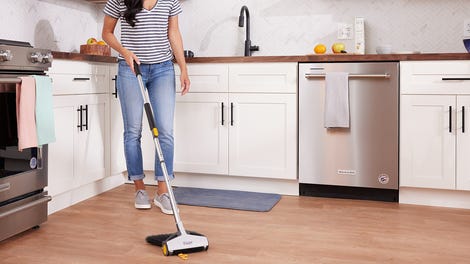 BOGO 50% Off
Flippr - BOGO 50% Off
Design
From the front, the Hero 3 looks a hell of a lot like the old Hero 2, with a larger, slightly higher-up lens. Peep it from the side, though, and you'll see it's way thinner and lighter, with a case that's waterproof to 197 feet and has a more-secure locking mechanism, a Wi-Fi remote control, and several mounting options. The Hero now uses Micro SD cards (up to 64GB) instead of full-sized. There's no built-in 3.5mm mic jack, but there is a mic adapter cable sold separately for $20.
Using It
If you've used a GoPro before, it's very familiar. There are two main buttons: one on top for start/stop/record, and one on the front for navigating menus, which display on a tiny (not backlit) LCD screen. Shooting modes include Movie, Still, Timelapse, and Burst. There are a million options in the menus. There's also a third button for turning Wi-Fi on and off.
The Best Part
Image quality. The Hero 3 is capable of truly beautiful shots. In daylight and lowlight, it is a head and shoulders above its competitors. Nothing comes close in terms of sharpness.
Tragic Flaw
Battery life. Oh man. Recording at 1080p over 30fps (with all radios off) it came in at a measly 88 minutes. By comparison, the Contour+2 came in at 120 minutes, the Sony Action Cam at 157 minutes, and the Drift 2 at 166 minutes. Yes, you can buy spare batteries and a Battery BakPak, and you'll need them for longer shoots, but it shouldn't be that way. Also, the battery meter uses three bars to tell you how much juice you have left. Not nearly enough info. A percentage reader would be much better.
This Is Weird...
It shoots 4K video at 15 frames per second. Basically nobody (except suuuuuuper rich people) has a 4K TV or monitor yet, so there's nothing you can watch it on in all its glory. Sure you could crop way in and make it 1080p, but they you lose the wide angle. And the footage is gorgeous—until something moves in the frame, then it's unbearably choppy. It's not a flaw, it's just a pointless feature. (If you want to to a timelapse, you can just use the timelapse feature and get 12MP 4:3 images that look great.)
Test Notes
The Hero has by far the most mounting options of any action cam. It's hard to imagine an activity you couldn't use it for.
There are so. Many. Options. That's good for extremely detailed level of control over how your shot looks. But it also makes navigating deep into the menus (which still are not totally intuitive) a pain in the ass. Using the LCD Touch BakPak helps some, and using the smartphone app will make it easier, but it isn't available until December.
You can tilt the Hero 3 up and down when surfing, whereas the Contour+2 and Sony Action Cam were locked in place and shooting too low on my surfboard. The only problem is that you can't truly lock its position; when I duckdived through a big wave it would get pushed down and I'd have to readjust.
It has Protune! What the hell is that? The Hero 3 makes a lot of adjustments on the fly for contrast, sharpness, and color when you're shooting in Basic mode. They're prettier, but sometimes the camera makes the wrong call and adjusts for something it shouldn't. Shooting in Protune not only opens up other framerates and resolutions, but it boosts the bitrate and doesn't do any compensation. The resulting footage has a flatter, grainier look. It basically gives you raw video which you can really tweak in editing. Pros and semi-pros will love this feature, but unless you really want to tweak your footage in post, you probably want to avoid it.
The Hero 3 isn't compatible with the old waterproof cases because of the slightly different layout, so you have to use the case it comes with. Thankfully, the new case is compatible with all previous mounts (for bikes, boards, helmets, etc).
There are mini USB and Micro HDMI ports. If you shoot at 120fps and play back via HDMI to a TV, it will look like regular speed. You have to slow it down with software on a computer. Also, the cover for these ports does not attach, and you will most definitely lose it. But you don't really need it, so whatever.
The included, wearable, waterproof (to 10 feet) Wi-Fi remote can change modes and start/stop recording. It supposedly works from as far as 600 feet away, but our guess is that you'd need to be on a flat desert plane for that. We got about 80 feet in NYC, and it didn't like going through floors. By comparison, the smartphone apps for the Contour and Sony which connect via Bluetooth max out at about 15-20 feet. GoPro claims the remote can control up to 50 cameras at once, though we weren't able to test that.
Low-light footage looks really good. It's not nearly as noisy as the Hero 2 was. Sometimes, however, it picks a strange point to meter off of, so footage can end up being too dark if there's a mix of bright light and shadows.
Overcranking for slow-motion works really well. Shooting 1080p at 60fps then slowing it down to 24fps (it's 30fps in the video) looks great and you don't lose any detail. Shooting at 720p at 120fps then slowing it to 24fps (again, the video shows 30fps) produces buttery 5x slow motion and it still looks great even on a 1080p TV. There are so many resolution/frame-rate combinations, you could get lost in them.
Of the all the action cameras we've tested, it is by far the most comfortable to wear, thanks to its lightness and smaller footprint.
You can flip the video if you're mounting the camera upside down, but that's it. A rotating lens, like the Contour and Drift has, would be a welcome improvement.
You can get various BacPacs for the camera, including the Battery BakPak (which you'll probably want), and the LCD Touch BacPac which lets you frame your shots, review your footage, and makes navigating the menus slightly less painful.
Should You Buy It?
Yes. It is handily the best action camera we've ever used. The footage it takes is simply unparalleled. The biggest ding against it is battery life, which is important enough to cost it half a star. If you're not doing long shoots (or if you don't mind buying extra batteries or the Battery BakPak) this is a no-brainer.
The only thing other reason to hesitate is the price; $400 ain't cheap, and you could get the Hero 3 Silver or White editions for $300 or $200, respectively. That said, we think the image quality is worth the $400. It's easily one of our favorite gadgets of the year. [GoPro]

GoPro Hero 3 Black Specs
• Field of View: 170° or 120°
• Storage: up to 64 GB microSD
• Frame Rates: 4K (16:9 and 17:9) @ 12, 12.5, 15fps; 2.7K (16:9 and 17:9) @ 30, 25, 24fps; 1440p (4:3) @ 48, 30, 25, 24fps; 1080p (16:9) @ 60, 50, 48, 25, 24fps; 960p (16:9) @ 100, 48fps; 720p (16:9) @ 120, 100, 60, 50fps; WVGA (16:9) @ 240fps
• Dimensions: 2.30 x 1.55 x 0.08 inches
• Price: $400
• Gizrank: 4.0