Sure, the new documentary Grant Morrison: Talking With Gods has scenes detailing the comic author's experiences with spellcasting, psychedelics, and alien abduction. But essentially it's about a quite ordinary fellow who wanted to make comics...and succeeded like a madman.
Patrick Meaney's documentary of Morrison, which debuted yesterday in San Francisco and opens in New York tonight, is a twofold breakdown of the author's history. On one hand we have the material Morrison, the polite Glaswegian writer who made a killing when his graphic novel Arkham Asylum: A Serious House on Serious Earth was released the same year as Tim Burton's Batman. Through a series of interviews with both the author and his comic book compatriots (and there are oodles of talking head spots — Warren Ellis, Matt Fraction, Frank Quitely, and Jason Aaron just to name a few), we hear about the author's rise and the genesis of his ideas (i.e. The Invisibles was inspired by a trip around the world courtesy of those Arkham Asylum ducats).
The documentary offers a lot of entertaining anecdotes, such as a fluff piece from a 1970s Scottish newspaper detailing a shy teenage Morrison's interest in comics. There's also a segment about his rivalry with Alan Moore, who didn't want a green writer taking over Marvelman. The latter half of the documentary delves into how Morrison's personal life affected his modern work and the controversies his mainstream superhero courted — we get Morrison reacting to the fan backlash to his "fiction saves the day" mega-event Final Crisis, but I would have liked to have seen the author talk up the editorial triage that followed his New X-Men run.
The other half of the film is concerned with the mythic Morrison, the freewheeling four-color savant who was abducted by aliens in Kathmandu, met Jesus Christ while terribly ill, and spends his evenings chatting with starstruck strippers about quantum mechanics.
Perhaps the most curious part of the documentary is how these two personas meld seamlessly: he is 100% matter-of-fact about his weirdness and doesn't really want to foist it on anyone. He knows he's had a strange life, and he knows you think he's a strange guy. At one point he opines that he could write the most milquetoast comic on the stands, and people would interpret it as some transgressive, drug-fueled manifesto. And even though Morrison isn't into psychedelics nowadays (he makes it clear that drugs were very 1990s), he's not particularly interested in dissuading you of his mystique. When you watch the film, you realize how recognizable Morrison's look is compared to the other esteemed comic creators who chime in. He's the comic book writer as pop persona. Morrison's savvy enough not to stray from his own branding, even if he's not 100% comfortable with being "the most controversial writer in comics."
G/O Media may get a commission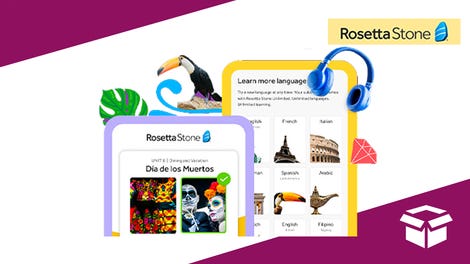 Extra 20% off
Rosetta Stone Lifetime Subscription - All Languages
All in all, Talking With Gods is an entertaining watch. It's a no-brainer if you're a Morrison fan, a Vertigo acolyte, or a comic book history buff. Non-comic readers mileage will vary; it depends if you're the kind of viewer who enjoys watching an author wax on about his creative process. The documentary is playing in select US cities throughout October, and it's available on DVD October 26.