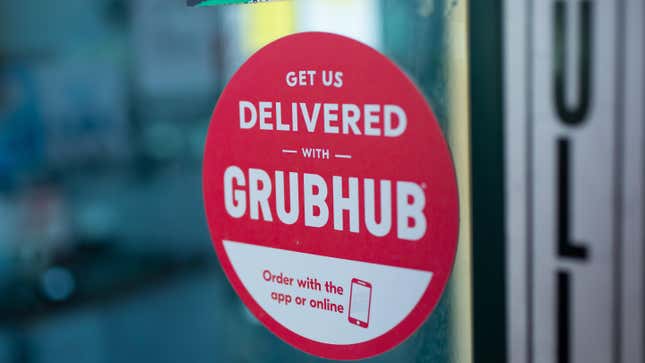 After nearly a decade of courtroom arguments and appeals, one California man is finally emerging victorious in a protracted legal fight against Grubhub.
Raef Lawson, a former Grubhub driver and aspiring actor/comedian/writer, has won his case against the company. His complaint, first filed in 2015, is one big step closer to being settled. And for all those years of hearings, filings, and briefings Lawson's triumph has, so far, netted him an astounding...$65 payout.
More important than the financial outcome here, though, is the legal precedent the case sets. The ruling could have big implications for how "gig economy" companies like Grubhub, Uber, Lyft, and DoorDash have to treat their workers in the California.
Lawson's case hinges on whether he was a contractor in his brief four month stint delivering food for Grubhub, or an employee—entitled to minimum wage, overtime, and other benefits. An initial 2018 ruling sided with the company, and denied Lawson employee status. But after an appeal to the Ninth Circuit and a remand back down to the same district court, Judge Jacqueline Scott Corley has now ruled that, under California laws, Lawson was legally a Grubhub employee during his time as a delivery driver.
"Mr. Lawson is properly classified as an employee, not an independent contractor, for purposes of his minimum wage and overtime claims," wrote Judge Corley. "He is entitled to judgment on his minimum wage claim (count two of the complaint) with damages in the amount of $65.11," the order adds. That $65.11 makes up for sub-minimum wages that Lawson was paid by Grubhub. The plaintiff wasn't awarded any overtime, as the court ruled his compensable time worked never exceeded 4o hours in a week. Still, 65 bucks isn't too shabby when it comes with employee status.

Employees have many more rights than independent contractors and are legally guaranteed many more benefits from their employers like overtime and access to unemployment insurance. Gig workers have been fighting to be recognized as employees for years now, and in places like California they may be beginning to make headway. Between Judge Corley's first and last rulings in Lawson's case, the state law changed. AB5, a landmark piece of legislation, passed in 2019—thus setting stricter standards protecting workers and instituting a new set of criteria for what is/isn't an employee.
It's on these recently instituted criteria that Thursday's ruling is based. Corley decided that the Grubhub/Lawson relationship didn't satisfy the so-called ABC test for contract work and that Grubhub wasn't eligible for a business-to-business exception to the ABCs. Under the test, a worker can only be considered a contractor if they meet three requirements:
The worker is free from the control and direction of the hiring entity in connection with the performance of the work, both under the contract for the performance of the work and in fact;
The worker performs work that is outside the usual course of the hiring entity's business; and
The worker is customarily engaged in an independently established trade, occupation, or business of the same nature as that involved in the work performed.
Obviously, delivering food for Grubhub does relate to the company's main business. After all, that is Grubhub's entire business. The judge agreed. "The usual course of its business is connecting restaurants with diners to facilitate food ordering. Food delivery is not outside the usual course of that business," ruled Corley. "Because Grubhub has not established Prong B, it does not meet the ABC test and Mr. Lawson is properly classified as an employee for purposes of his minimum wage and overtime claims."
And though the question of "employee or contractor" is settled for Lawson—the case isn't quite over yet. The suit is a Private Attorneys General Act (PAGA) case, meaning it seeks to recover penalties on behalf of the plaintiff and others in the same group (i.e. Grubhub drivers) who were subject to labor code violations in California, explained Shannon Liss-Riordan, the lawyer representing Lawson, to Gizmodo in an email.

"The first stage was for him to prove he was an employee (which we did, at last, after 8 years of litigation!)," wrote Liss-Riordan. "I am looking forward to the next stage of the case, which will be to collect penalties for GrubHub's misclassification of drivers across California for years," she added
Per Liss-Riordan, Lawson's $65 win may be the first court ruling in the U.S. to deem a gig worker an employee for wage purposes. "It is an important precedent," she said.

However, the reach of that precedent is a little unclear given that Proposition 22 is still winding its way through California's courts. The law, passed as a ballot measure in 2020, would essentially make gig worker companies exempt from abiding by AB5. Prop 22 was recently upheld in a state court of appeals, after a lower court had deemed it unconstitutional. Another appeal is expected, which would push the case up to the state's Supreme Court.
"Given Prop 22, the [awarded] penalties could likely at this point only go up until December 2020. But there are still several years of penalties available, so the cost to GrubHub in this case could be substantial," clarified Liss-Riordan. "It remains to be seen still whether the California Supreme Court will take up the constitutionality challenge to Prop 22," she added.
The question of how companies built on the backs of gig workers have to categorize those drivers/couriers/Task Rabbits/etc... is a long-standing one that multiple states, not just California, have been grappling with. Last year, Massachusetts' Supreme Court ruled against a ballot measure that would've designated all gig workers as independent contractors. Other states, like Georgia, Alabama, and Florida have favored the corporations.
Yet those state decisions could become moot if Biden's Department of Labor successfully institutes a proposed federal rule guaranteeing gig workers employee status. Rideshare and delivery companies have come out in strong opposition to the rule. Most recently, Uber and Lyft's trade group have publicly questioned the merit of Biden's recent DOL nominee as the companies attempt to undermine worker rights.
The entirety of Thursday's California ruling is embedded below.
Update 4/3/2023, 9:17 A.M. ET: This post has been updated with additional information from attorney Shannon Liss-Riordan.
Update 4/3/2023, 12:20 P.M. ET: This post has been updated with yet more additional information from attorney Shannon Liss-Riordan.