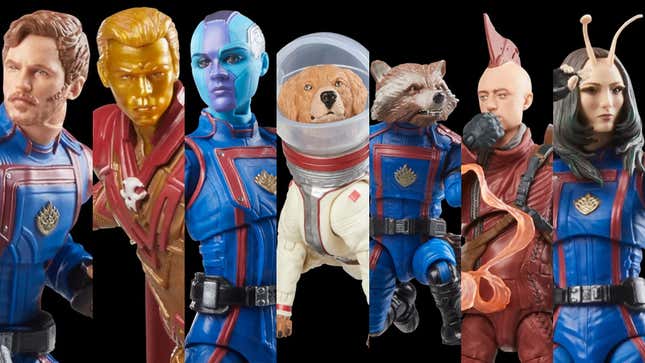 We might have just gotten one Marvel movie—and its action figures aren't even out yet—but Hasbro is already prepping its next plethora of plastic superheroes in the run up to the next MCU film. It's the turn of Guardians of the Galaxy Vol. 3 to get its Marvel Legends due, and Hasbro's pushing the boat out.

Revealed today, Hasbro's Guardians of the Galaxy Vol. 3 wave will, in a rarity for the toy company, exclusively contain figures from the upcoming movie, instead of the usual mix of movie-specific figures and characters from Marvel's comics loosely connected to the stars of the films. There's nine figures in all: seven in the main wave (Star-Lord, Drax, Mantis, Nebula, Rocket, Adam Warlock, and Kraglin) that come with the parts to build an eighth (Knowhere's security chief/psychic dog, Cosmo), plus a standalone deluxe figure (Groot).
It's certainly a peculiar choice to make Cosmo the wave's collectible figure—especially considering the bulk of him comes with Rocket to make up for the fact that Rocket is, well, half an action figure compared to his fellow Guardians, scale-wise. But at least if you want to collect all of Cosmo's parts, you only need to get six figures—only Star-Lord doesn't come with a doggie-piece. And this time, if you only go for movie figures, you don't need to grab comics characters you don't necessarily want to complete the extra figure.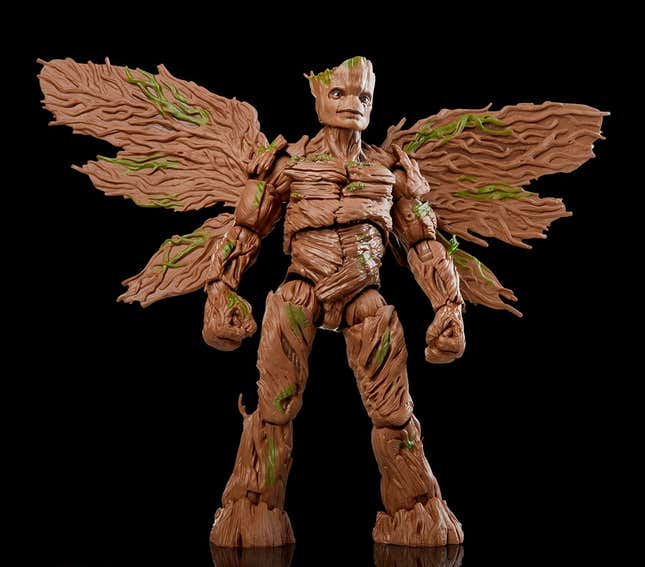 At least Groot makes up for his absence in the main line by being a big, bulky deluxe release—befitting his bulky new look in the third movie. As well as alternate hands, Groot comes with a pair of wooden wings to attach to his back, and a teeny tiny baby Rocket, for good measure.

The Guardians of the Galaxy Vol. 3 Marvel Legends figures are due out in spring, presumably some time around the film's May 5 release date. The standard figures will cost $25 apiece, with Groot clocking in at $39—and go live for pre-order tomorrow, February 22, at 1:00 pm ET. Click through to see pictures of all the toys!