55-year-old Mayor of West New York, NJ, Felix Roque and his son Joseph, 22, were arrested today for allegedly hacking the website www.recallroque.com that was set up to rally support to recall the politician.
Mayor Roque, a Cuban-American doctor and Army colonel, and a Democrat who has a close relationship to the large-gutted Republican Governor of New Jersey Chris Christie, has had his one year in office described by some as rampant mismanagement. Last spring there was an uproar over Roque's decision to bring a convicted sex offender to join the staff of his medical practice.
Joseph Roque, encouraged by his father, successfully gained access to the GoDaddy-hosted website and took it offline. The father and son duo then learned the identities of the site's creators—several local public official and media personalities—whom he threatened to "punish" by way of Roque's political power.
The New York Times reports that Roque told one of the creators, "Everyone would pay." He threatened to expose another to the IRS for audit. Sources told the Times that Roque believed he was powerful enough to avoid being caught for the hack.
According to the complaint, a government official in Hudson County set up the recall Web site on Feb. 4 and through Facebook encouraged people to send information anonymously about alleged mismanagement in the Roque administration.

Two nights later, Joseph Roque e-mailed the creator to say that he had good leads, the complaint charged, and tried to learn the creator's identity, insisting he had documents to hand over in person. The creator suggested he scan them into a computer and then e-mail them.

In between constant phone calls to his father, Joseph Roque figured out how to take control of the creator's e-mail address and use it to tell the host of the recall Web site, GoDaddy, to shut the site down, according to the complaint. Prosecutors said that at one point Joseph Roque even did Internet searches for "how to hack."

The day that GoDaddy was allegedly instructed to shut the site down, a West New York resident who had contributed information to the recall site found that it did not work.

Eleven minutes later, Mayor Roque called the resident and left a threatening message, the complaint said. In a later e-mail, he warned, "Remember that I am in the Army with many friends," concluding: "Don't let me down. Your friend, Dr. Roque."
G/O Media may get a commission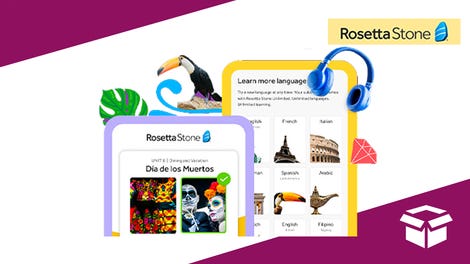 Extra 20% off
Rosetta Stone Lifetime Subscription - All Languages
Shackled at the ankles and wrists, father and son appeared in a Newark federal court today, where they were told by a judge that they face up to 11 years in prison and $600,000 in fines. They were officially charged with gaining unauthorized access to computers in furtherance of causing damage to protected computers; causing damage to protected computers; and conspiracy to commit those crimes. Both were released on $100,000 bond each. [NYT, NJ.com]