When the demands of sitting upright in a chair at a desk become too burdensome, the Grab Shell promises a more comfortable way to stay productive. It's a mechanical wireless keyboard with a pair of wings that fold back so the whole thing can be held in two hands while still allowing full access to all of its keys.
The Grab Shell certainly isn't the first handheld keyboard we've stumbled across over the years. In fact, there are many unique keyboard creations available that free their users from the confines of an office chair and desk. Many of them use a smaller key layout, however, requiring users to memorize chords—combinations of multiple keys pressed at the same time—to produce a given character.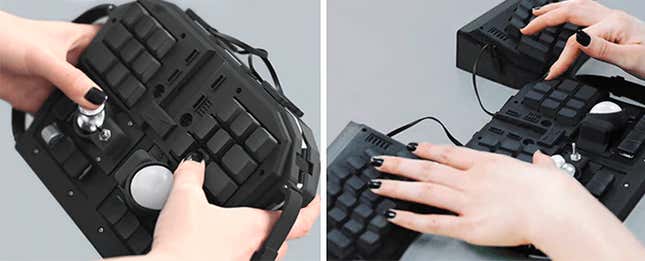 What sets the Grab Shell apart from other handheld keyboards is that it includes a full QWERTY layout, plus a generous assortment of other fully customizable keys. All of its keys are also accessible whether it's used flat on a desk or folded in a pair of hands.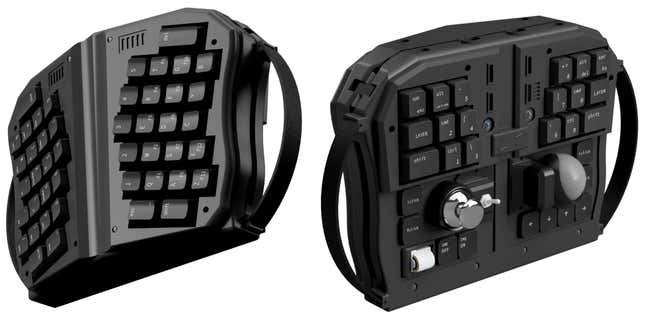 The Grab Shell can even replace a mouse, with the inclusion of a mini trackball and a scroll wheel. For good measure, it's also got an analog joystick, as well as a physical toggle switch, which wouldn't be a bad way to activate and deactivate CAPS lock.

Does the Grab Shell look like the most ergonomic way to type? No, and we imagine there's going to be a bit of a learning curve to mastering touch typing on it—especially for hunt and peck typists. It also weighs in at around 950 grams, so it's got a bit of heft to it, potentially making hours long coding sessions in bed a challenge unless users beef up their arm muscles. But its creators aren't pitching it as a more ergonomic alternative to a traditional keyboard. It's for those who want the freedom to move around while they work, and it appears to deliver exactly that.
The Grab Shell is currently available for pre-order with a $100 discount, putting its price at $299 instead of $399. It comes in a white or black finish, with delivery of the first thousand units expected somewhere between June and July, later this year.