I'm not a huge fan of Bluetooth, to be honest. My phone never pairs up right with my Powerbook, so I was skeptical about how audio would sound through Bluetooth headphones. Logitech is known mostly for keyboards, mice, and headsets, but the company really hits home with its Bluetooth Wireless iPod Headphones. If you love your iPod and don't want a baby kitten to die, keep reading for the juicy deets.
So these headphones came in pretty straightforward plastic packaging. I like a fancy box, but I decided to let it slide this time around. I opened the plastic and grabbed the headphones. At first, they seemed a bit heavy, so that scared me. Did I really want to walk around with an extra pound or two on my head? I got over it and put them on. These headphones have a nice and snug fit and will probably never fall off while jogging or working out, so props to Logitech for not making a flimsy product. The Bluetooth iPod attachment was clearly meant for the full-sized iPod, and with me owning a mini, I wasn't feeling the excessive plastic.
So I did the only thing that made sense. I stole my girlfriend's 3G iPod, telling her I needed it for work. She got mad and threw a book at me, but I stood firm that the iPod was being used for work-related activities only. The headset came charged so I held the button down on the iPod attachment until a light turned blue. Nothing happened. I decided I should take a minute and look over things before smashing the iPod. My patience paid off, because eventually I realized the headphones themselves had controls on them! The controls feature track skipping, volume adjustment, and play/pause—all the essentials you need on a set of Bluetooth headphones.
G/O Media may get a commission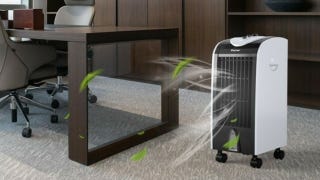 Save $10
Evaporative Portable Air Conditioner Cooler with Filter Knob


I held down the play/pause button with the headphones on and was greeted by a little jingle sound. Then the music finally came through. The quality was excellent and comparable to high-grade Bose-esque headphones. Every note came through extremely crisp and clear. I put on a playlist and decided to test out the range. It says 30 feet on the packaging, but I'm not a man of standards. I decided I needed to use the bathroom so I left the iPod on my kitchen counter and headed downstairs to the main bathroom. The music didn't cut out or buzz the entire time and it was nice to listen to my favorite tunes while cleansing my system.
After rocking out around the apartment for 10 minutes or so, the time came for me to go for a jog with these babies on. I ran around the streets of Philly for a good 20 minutes with the iPod in my pocket. Once again, no buzzing or anything. Just a very enjoyable music experience. After about eight hours the battery got low so the time came to charge the headphones. My only gripe about this product is the charger. The charger is a Y-shaped cord that plugs into both the Bluetooth dongle and the headphones at the same time. If you lose it, your headphones are worthless. The thought of this scared me because I had already lost three chargers in the past month while moving. Eventually I got over it and let the charger do its thing.
Overall, Logitech did an excellent job with these headphones. The quality of my music listening experience is an important factor for me when considering a product and thankfully, Logitech realized this. You won't be disappointed with the sound. The battery life is superb for Bluetooth headphones. You can stretch about eight hours out of them on a full charge. That's plenty of time to keep rocking out until your iPod dies. The built-in controls on the headphones are a great feature, because let's be honest—who feels like pulling out the iPod to change the volume or tracks? I sure don't. Good job, Logitech. Your Bluetooth Wireless iPod Headphones are on par with your mice.
Logitech wireless headphones for iPod