If you've gotten used to action movies featuring an efflorescence of computer-generated images, and endlessly wobbly cameras, then Hanna will be a revelation.
The film, which opens today, features absolutely a slew of beautiful and disturbing images, but director Joe Wright (Atonement) also films action with an unblinking intensity that goes along with the Chemical Brothers score. And meanwhile, the film asks all the questions about humanity that the best science fiction often poses. Spoilers ahead...
So let's get this out there right away: Hanna isn't a great movie, but it is a very good one. While watching Hanna, I was totally swept up in this story of a teenage assassin confronting the "real" world for the first time, and the mixture of beautifully shot sequences and little character moments kept me leaning forward in excitement. It was only after I walked out of the theater that I started to think about the film's flaws.
Except for one flaw that did jump out me as I was watching it – the movie gets a bit slow in a few places, and there are scenes which lose momentum and go on way longer than they really ought to. But that's a fairly minor criticism, really.
G/O Media may get a commission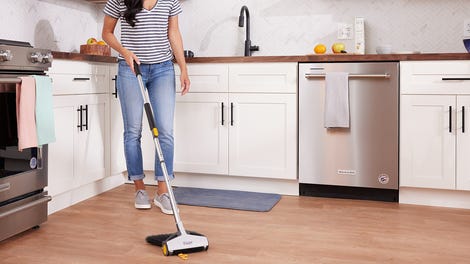 BOGO 50% Off
Flippr - BOGO 50% Off
Hanna isn't as good a movie as Children of Men, by any means, but it does the same thing – it shows how you can make a science fiction film that respects its audience and treats us like grown-ups. Like Children, Hanna is gorgeously cinematic rather than just full of razzle-dazzle. And it has some great performances, especially Saoirse Ronan.
Ronan plays Hanna, who's a deadly prodigy: we see her kill a massive deer in the tundra in the opening scenes, and we quickly discover she's a deadly fighter who speaks nearly every major language. Her dad/trainer (Eric Bana) gives her a box with a light switch, and says that if she presses the switch, the evil Marissa (Cate Blachett) will come looking for her – and either Hanna will kill Marissa, or vice versa. It's up to Hanna to press the switch when she feels ready to face her test of adulthood.
It doesn't take Hanna long to press the button, and soon she's confronting the human race for the first time. After the first 20 minutes, the film lurches from cottage-in-the-snow fairy tale to chase movie, with spies and thugs on the trail of Hanna across North Africa and Europe.
Hanna knows a ton of languages and a thousand ways to kill you, but she's never seen a television or an electric kettle before, and everything is new and scary to her. Soon, she meets a British family who are traveling around in a camper van, and the daughter befriends her and teaches her about Paris Hilton and pop culture and trendy lesbianism (the kind where you hold hands and have boyfriends).
Saoirse Ronan does an amazing job being an alien among us, who's been preparing for this test her whole life but isn't really ready for any of what she encounters. She's wide-eyed and full of wonder at all the new experiences she's having – when she's not switching over into cold-blooded killer mode and taking care of business.
Hanna was created as a weapon, and she's never thought of herself as anything else, but now she's discovering human connections and music and ideas and stuff. And as with all good coming-of-age stories, she's questioning who she is, and what she is.
There are a lot of weird images that will stick in your head for a while after you watch this film – a deer's eye clouding as it dies at Hanna's hand, Cate Blanchett brushing her teeth until she bleeds, a weird giant wolf's head tunnel where Blanchett confronts Hanna. And there are a few really great moments that might stick in your head, too, like the confrontation between Bana and Blanchett where she asks him why now, after all this time? And the bit where Hanna's new best friend stumbles on the sight of her killing three armed men.
This is a violent movie about a person who was engineered as a weapon, and has to be tough and constantly alert to survive – but she's in a world where most people don't sleep with one eye open. The cool thing about Hanna is, it leaves you wondering afterwards just which one the "real" world is – the world of sudden violence and paranoia Hanna lives in, or the coddled world her British tourist family inhabits.
Like I said, Hanna does have some flaws that didn't really bother me until after I left the theater. Like, a major subplot gets dropped towards the end without any resolution. The business of Hanna discovering the beauty of music is a smidge cliched and a bit Star Trek: Voyager-y. The film never quite breaks out of having the structure of an action thriller.
But in general, I'd say that a film whose flaws only start bothering you after you're done watching it is a film that's succeeded. And Hanna definitely swept me up in its amazing visuals, well-realized characters and thrilling action while I was watching it. Definitely worth checking out.