A generation of us grew up interacting with computers through a mouse—but that has not always case and will not always be the case. (Hi there toddlers on iPads!) When the Macintosh 128K debuted in 1984, it had to teach users how to point, click, and drag with a charming, game-filled mouse tutorial.
Apple's Lisa was the first personal computer with a graphical user interface (GUI), but it was the Macintosh 128K that brought GUIs and mice to the mass market a year later. For many people, this was the first computer they would ever own and the first mouse they'd ever encounter. The official Guided Tour of Macintosh came as a floppy disk and cassette of synced audio instructions. And to teach users what to do with that weird rolly thing called a mouse, a whole section was devoted to "MOUSING AROUND."
The wonderful guidebook has a whole archive of tutorials from Apple and Windows alike. You can, for example, revisit the teal background of Windows 95 or check out Lisa's decidedly less exciting mouse tutorial. But Apple definitely upped the mouse tutorial game in 1984, bringing in magicians, stars, and a maze. Let's take a look.
G/O Media may get a commission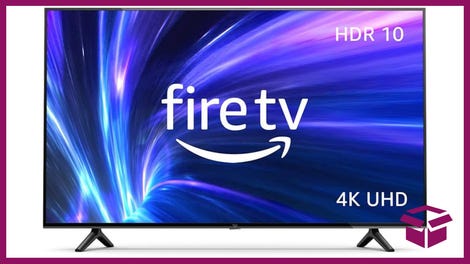 42% Off
Amazon Fire TV 50" 4K Smart TV
---
---
---
---
---
---
---
You can page through the entire Guided Tour of Macintosh at guidebook. Want to hear the audio cassette sounded like? Then check out this video walkthrough of the entire tour.
Thirty years later in 2014, it's hard to imagine what it like when a computer mouse was novel and these admittedly goofy games were teaching an entirely unfamiliar skill. Do you have memories of these mouse tutorials or using a mouse for the first time? Share them below!
[Guidebook, h/t @mapgoblin]