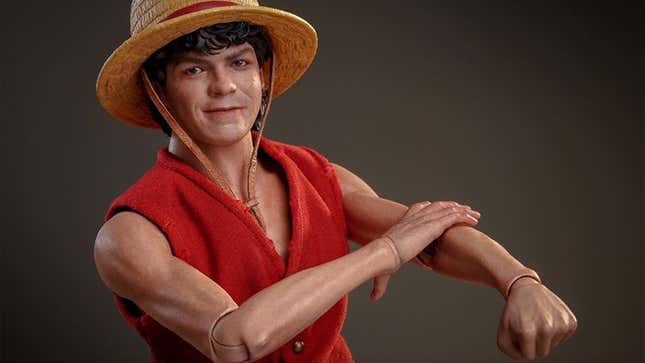 Usually when we're talking about a new Hot Toys figure, it's often to gush about how the company has managed to create another eerily accurate little Hollywood homunculus. This time, the eerie vibes are still there, but perhaps for... other reasons.

The success of Netflix's One Piece remake has already been met with a surprising push for merchandise from Asian toy makers, with Bandai already getting on board with their own version of a figure for Iñaki Godoy's take on Monkey D. Luffy. But now Hot Toys has unveiled their own 1:6 scale take on the pirate hero and... oh. Oh no.
Look, there was already the cerebral hurdle of taking something like One Piece and translating it into a live-action adaptation in the first place, but Netflix has at least seemingly managed to do right by Eiichiro Oda's seminal manga so far in that regards. The extra hurdle of then having to replicate that on a—in the grand scheme of things—tiny plastic action figure is just another layer of difficulty. But god, does this little demon look unnerving. Godoy's likeness is only just there, giving you an odd uncanny valley feeling at the best of times, and of course there are things that look weird that are the necessary sacrifices of making a posable action figure—like Luffy's uncovered armed exposing the figure's articulated joints, breaking up the flesh.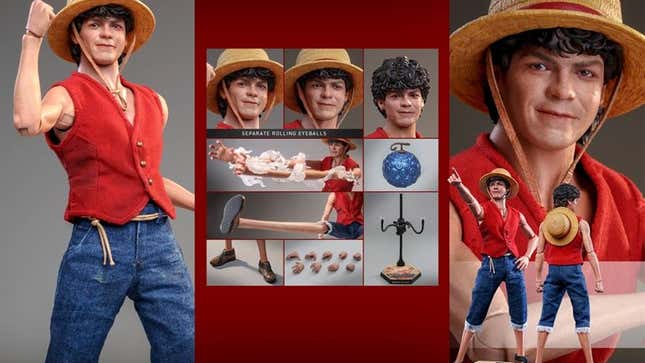 But when you combine the off vibes with Hot Toys' included parts to replicate Luffy's stretchy abilties, then, well, all bets are off and we're on a one-way pirate boat to nightmare town. There's no one wrong thing about it, but a collective iffyness that comes together to make something that just doesn't quite hit Hot Toys' usual heights. Especially so when the company wants $275 for the chance to have something mildly distressing in your display.

The Hot Toys Luffy is set to release in the back half of 2024, so there's always a chance Hot Toys could revise the likeness (and will have the time to do so). But there's no way around getting through the uncanny valley and seeing those limbs on the other side, to be honest. Click through to see more of the nightmares that await next year.