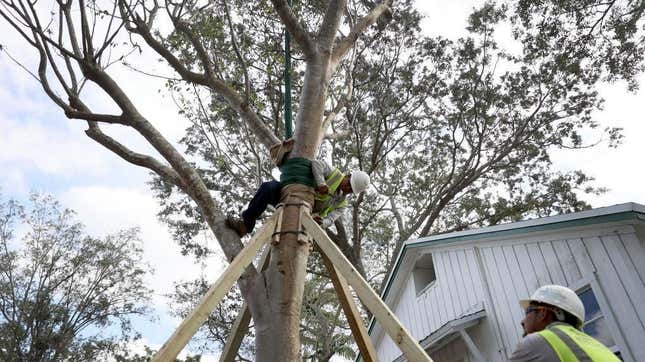 Some Republicans are seemingly no longer denying that climate change isn't real, and they have a plan to tackle greenhouse gas emissions. Not, it's not supporting a transition towards renewable energy. They want to plant more trees.
What Is Carbon Capture? With Gizmodo's Molly Taft | Techmodo
House Speaker Kevin McCarthy visited a natural gas drilling site in Ohio last month to promote House Republicans' plan to push domestic energy production. He claimed that the U.S.' natural gas was "cleaner" than Russia's. "God has blessed America with resources. If we have the ability to produce those resources, America will be stronger and the world will be safer," he said, WKBN News reported.
He was asked about climate change and about the Canadian wildfires that lowered air quality throughout the U.S. this June. McCarthy claimed that fires were caused by forest mismanagement, and touted planting trees as a solution, the Associated Press reported.
This idea first began to take hold with some Republican politicians in 2019 when a study suggested planting a trillion trees could be a major tool in removing carbon dioxide from the atmosphere. This study helped inspire the World Economic Forum's One Trillion Trees Initiative. Republicans, including former President Donald Trump, really embraced the initiative. They leaned on this idea versus shifting away from oil and gas infrastructure to lower overall emissions. In October 2020, Trump signed the "Establishing the One Trillion Trees Interagency Council," executive order. It was an easy idea to spread, and it didn't require phasing out fossil fuels or apparently waging a "war on coal."
The study received a lot of scrutiny, especially because it claimed that tree restoration was "among the most effective strategies for climate change mitigation." In May 2020, the study authors made corrections. They acknowledged that they were incorrect in stating that tree restoration was an effective climate solution. "We messed up the communications so badly," Thomas Crowther, one of the study authors, said according to the Guardian.
That's not to say that tree planting is not a tool for combating climate change and creating environmental equity. City neighborhoods that struggle with the heat urban island effect, which is when heat is often disproportionately trapped in lower-income neighborhoods, often have fewer trees. By simply adding more tree coverage, these areas can reduce surface temperatures and keep residents safe during heat waves, according to the U.S. Environmental Protection Agency.
But tree planting has to be done right—planting the wrong trees in the wrong place can worsen a lack of biodiversity, the New York Times reported. It takes more than a well-intentioned initiative to lower temperatures and absorb carbon from our atmosphere. We can't just plot a random tree into the ground in hopes of capturing carbon, without considering the native tree species in the region. And planting trees takes up a lot of space. Where will all of the newly planted trees go?
Trees do absorb carbon dioxide from the atmosphere, but emissions have continued to rise worldwide. A study published this June found that greenhouse gas emissions have reached an all-time high. Researchers warned that due to human activity caused by climate change, the world is reaching its remaining carbon budget.
And that isn't to say that other Republicans throughout the U.S. aren't continuing to ride aboard the climate denial train. Florida Governor Ron DeSantis launched his presidential campaign this May and called campaigning on climate change the "politicization of weather," the Independent reported. Texas Governor Greg Abbot has pushed to get rid of water breaks for workers. He did this despite the fact that the state has cooked for weeks under several intense heat waves this summer. During a recent hearing, Congressman Scott Perry called climate change a "problem that doesn't exist," the Associated Press reported.
Want more climate and environment stories? Check out Earther's guides to decarbonizing your home, divesting from fossil fuels, packing a disaster go bag, and overcoming climate dread. And don't miss our coverage of the latest IPCC climate report, the future of carbon dioxide removal, and the un-greenwashed facts on bioplastics and plastic recycling.