As you slathered conditioner onto your noggin this morning, you probably weren't thinking about lab-grown skin coins (if you were, r u ok?). But human skin grown in a lab is a booming business—and how it's made is a little-known and fascinating story.
Image: An Organovo bioprinter.
Yesterday, Bloomberg's Caroline Winter brings us news of a new partnership between the tissue-printing company Organovo and beauty giant L'Oreal. Her post gives us an incredible glimpse into the world of skin farming, which L'Oreal has been doing for decades. "The company started farming derma back in the 1980s," writes Winter nonchalantly. Hang on, what?
Though it sounds like something out of a horror movie, growing human tissue for testing purposes is a quite well-established industry. L'Oreal has been a pioneer in the practice, and it even runs a facility dedicated to it called the Predictive Evaluation Center, located in Lyon, France—along with a new lab in Shanghai.
The term "predictive evaluation" refers to testing how a new ingredient or product will affect human skin or eyes. That's a job that is often—even today—relegated to lab animals, which are put through what amounts to torture in order to test the safety of new products. In the 1990s, L'Oreal started investing in producing skin to replace animal testing, and today, it's completely free of the practice. Since 2008, the company says it's tested 13,000 different products in its skin lab, from concealer to conditioner.
G/O Media may get a commission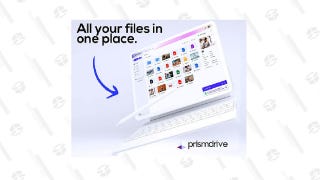 Save 97%
Prism Drive Secure Cloud Storage: Lifetime Subscription
Image: L'Oreal
Right now, L'Oreal's scientists grow these skin samples using left over mammary cells from plastic surgery. They're carefully grown into tiny samples, which are used to test new products. The commercial name for this product is called Episkin, and L'Oreal actually sells samples of what it grows to other companies, too.
Here's how The New York Times described the growth process inside the lab back in 2007:
To make Episkin, donor keratinocyte cells, collected after breast and abdominal plastic surgery, are cultured in tiny wells of collagen gel, immersed in water, amino acids and sugars, and then air-dried for 10 days or aged to mimic mature skin by exposure to UV light.
L'Oreal says it produces 130,000 tissue units every year, including skin but also epidermis and cornea—which is important when you're testing products that come into contact with millions of eyes.
So, what happens once the tissue is grown? How are the products applied? A great 2012 story from The Telegraph about plastic surgery waste material has an account of the lab work being done using the manufactured skin:
On the day I visited, laboratory assistants were soberly applying pink hair conditioner on to trays of skin the size of a Polo mint, and as thin as a cigarette paper. In another lab it was being blasted with UV light to assess the protective power of sun cream.
As you might imagine, artificial skin is astronomically expensive stuff. Winter says that in 2011, a single sample cost $70.62.
That brings us back to the news that L'Oreal is partnering with Organovo, the San Diego-based lab that's been pioneering 3D-printed tissue for almost a decade now. Organovo's process is called bioprinting, and it uses super-precise printer head to print cells into specific structures using a scaffold (here's a great explanation from io9's George Dvorsky).
The idea, the companies say, is to apply Organovo's bioprinting process to human skin, building on the decades of experience L'Oreal's scientists have accumulated. Just as conventional 3D printing promises to make conventional manufacturing faster, cheaper, and more deft, bioprinting could do the same for a burgeoning skin manufacturing industry.

And the best part: It will help provide an alternative animal testing—and hopefully eradicate it forever.

Check out the full post on Bloomberg for more information.
---
Contact the author at kelsey@Gizmodo.com.