Owners of very good boys and girls might be perturbed by the latest recall to make the news: 27 brands of dog food pulled from warehouses for possibly containing pentobarbital, a sedative used to euthanize both pets and people alike. As Gizmodo has already reported, the recall concerns wet and canned dog foods manufactured by the J.M. Smucker Company as far back as 2016, and includes popular brands such as Kibbles 'N Bits and Gravy Train.
Is AI Moving Too Fast? | Future Tech
But while the recalled products probably don't contain high enough levels of the drug to pose a danger to anyone's precious pups, it's the fourth pet food recall to involve pentobarbital in the last two years. And that can't help but bring up questions of how exactly it keeps ending up in dog food, and how often it's really happening.
In February 2017, Evanger's Pet Food and Against the Grain each announced their own recalls, after at least five dogs became sick and one died from eating Evanger's branded food that was found to contain pentobarbital. No reports of injury came from eating Against the Grain products, but the companies are owned by members of the same family, and their products are sometimes manufactured by Evanger. Later that April, a precautionary recall was issued by the company Party Animal, after a Texan customer provided samples of their Cocolicious brand to a testing lab, where it tested positive for pentobarbital. These products, Party Animal later alleged in a lawsuit, were also produced by Evanger, Food Safety News reported.
The latest recall also seems to have been sparked by outside testing. Earlier this month, WJLA, an ABC-TV affiliate in Washington DC, reported that it had sent 62 samples of wet dog food brands sold by Big Heart Pet Foods (owned by Smucker) to an outside lab for examination. More than two-thirds of the samples tested positive for pentobarbital. After WJLA made repeated inquiries and sent its results to the Food and Drug Administration, the agency replied it would "investigate and take appropriate enforcement action."
G/O Media may get a commission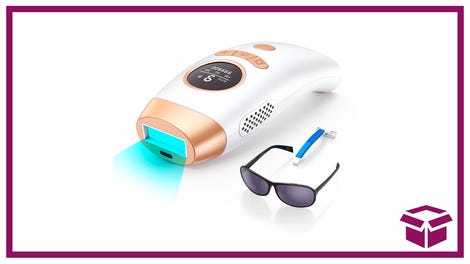 58% Off + Coupon
IPL Hair Removal Device
Both the FDA and Smucker have said the levels of pentobarbital that could be found in these products are unlikely to cause harm to dogs if they ate it, and no specific injuries have been reported so far. The company also said that the source of the contamination was a single supplier who provided a "single, minor ingredient, used at one manufacturing facility."
Strangely enough, the FDA's list of recalled foods provided by Smucker only includes 18 lots, while Smuckers' list on its own website has 27; the FDA told Gizmodo via email that it is looking into why Smuckers has more on its public notice. The FDA also said it is still in the middle of investigating the source and the route of the tainted food. Smucker, meanwhile, has not immediately responded to a request for comment from Gizmodo regarding the identity of this supplier and what ingredient it supplied.
But some experts say it's pretty obvious where the contamination could have come from.
"For pentobarbital, or any barbiturate, to get into pet food it means that animal products are being included that do not come from carcasses that entered USDA-inspected slaughter houses (because they only take in live animals)," Cailin Heinze*, a veterinary nutritionist and assistant professor of nutrition at Cummings School of Veterinary Medicine at Tufts University, told Gizmodo via email. "The carcasses must have been killed using barbiturates (or possibly treated with barbiturates shortly before being killed). This would be most common for 'pet' animals, particularly horses. There are renderers that will pick up dead animals from farms and basically cook them down to make new products. It's a way of recycling, albeit a somewhat distasteful one."
It's technically illegal for pet food to be made of animal meat that isn't explicitly killed for food, since it's considered an adulterated ingredient. But the FDA has allowed such meat to be used so long as it doesn't violate other regulations and is decontaminated properly. However, pet food is explicitly prohibited from containing pentobarbital-tainted meat.
Vets were especially worried about that possibility in the 1990s, when it looked like dogs were becoming resistant to pentobarbital. Some vets speculated that dogs were getting enough pentobarbital through their food that it let them build up a tolerance, which prompted the FDA to conduct two separate surveys of dry dog food brands in 1998 and 2000. They found that around half of the samples contained the drug, albeit in amounts found to be far below the threshold of causing any bodily effects in dogs. And it seems no further enforcement actions were taken afterwards against any of the tainted brands back then.
"The sampling was not representative of the entire pet food market because the sample collectors specifically sought out dry dog foods with certain animal-derived ingredients," the FDA told Gizmodo. These ingredients included rendered or hydrolyzed meat, the latter of which is meat that's broken down into tiny pieces but can also include thrown away scraps.
"The FDA published its 1998 study partially to improve industry awareness of the potential for pentobarbital to be an adulterant in pet food," the agency added.
At the time, the researchers believed the tainted meat had mostly come from cattle. But the FDA says that there's no point in extrapolating any of their results to the present day.
"The sampling method and the age of the data generated by the survey means that the data cannot be used to draw inferences about dog food being produced and sold in the U.S. today," the agency said. In response to a question about whether they might plan a similar survey today, the FDA responded that it couldn't "speculate at this point in time." All of which means we really have no idea how often pentobarbital is in our pet food.
According to the Pet Food Institute, an industry group representing companies that produce the vast majority of pet foods and treats stateside, though, there's no major crisis on the horizon.
"Members of PFI commit to sourcing meat from livestock that has been slaughtered in human food facilities and coordinate accordingly with their suppliers," the organization told Gizmodo via a statement. "If an ingredient or pet food product is out of specification with a manufacturer's food safety plan, they conduct a thorough investigation, including further product testing and communicating with suppliers."
"In this regard, pet food is one of the most highly regulated food products in the U.S., including at the federal and state level," PFI added.
That commitment isn't a binding guarantee though. And while the companies implicated in last year's recalls were all non-PFI members, that isn't the case for J.M. Smucker. According to Heinze, the problem might largely stem from suppliers that are looking to cut corners rather than from any sort of systemic fraud.
"Scrupulous pet food companies are never going to condone this, but if they are not testing every batch of the raw ingredients, they could miss it if a supplier decided to defraud them by including cheaper ingredients from sources that may include euthanized animals," Heinze explained. "It could be similar to the melamine recall [in 2007]. That was malicious fraud intended to make money as previously melamine wasn't thought to be harmful, but it could be used to make ingredients look higher in protein and thus more valuable."
But unseemly as feeding pets recycled, rendered meat might sound to owners, Heinze notes that many within and surrounding the pet food industry are unlikely to embrace a wholesale ban on it, even with the risk of accidentally exposing them to euthanized animals. A crackdown on the source of pet food meats would also increase the ecological footprint of the pet food industry.
"[I]t means that lots of nutritious ingredients would potentially go to waste," she said, "and feeding pets the same foods that people eat increases our pets' environmental impact considerably."
*This post originally misspelled Cailin Heinze's name. We regret the error.