Harry Potter's British publisher decided to re-issue the books with new covers, choosing Jonny Duddle from four finalists. As each of his new covers are revealed, Duddle gets a deluge of comments on Twitter, some supportive and others complaining. But he waves off the biggest complaint with some logic.
For many of us, the Harry Potter covers that came with the novels are now iconic. But now that the first generation readers have come and gone, publisher Bloomsbury decided to re-issue the books with new covers, hoping to entice a whole new group of children. The Telegraph has an in-depth article and a video detailing the drawing process.
Four artists were approached by Bloomsbury, with Duddle making the cut because J.K. Rowling had liked a character of his from a ten-year-old Pirates of the Caribbean game. In the intervening years, Duddle's been working on his own books, including The Pirates Next Door.
Of the four finalists, Duddle's decision to have Harry looking right at the viewer in Harry Potter and the Philosopher's Stone clinched him the job. Duddle works out of a studio in his home, seen in the Telegraph video.
G/O Media may get a commission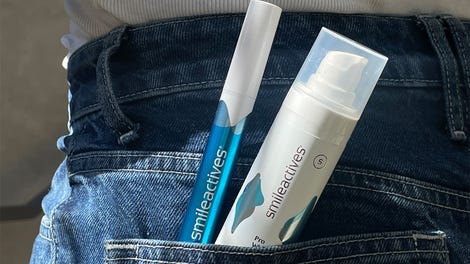 58% off
Whitening Powerhouse Pen & Gel Duo
One of the most interesting bits in the article is Duddle's response to the fandom explosions that accompany each cover reveal:
Needless to say, there is a certain amount of pressure in re-imagining the world's best known wizard. "All I can really do, as an artist, is draw my vision of that scene," Duddle says. His covers were shaped by feedback from Braithwaite, Rowling's agent Neil Blair and Rowling herself. For each rough he submitted, Duddle would have a number of revisions suggested. He says he could never be sure which of them came from Rowling herself.

Duddle's covers have been launched sequentially online, where Potter's enormous fan base is active and vocal. He knows when Bloomsbury have released a new cover because his usually quiet Twitter account is suddenly inundated as the fans give 140-character verdicts.

The biggest complaint he receives, he says, is that Harry looks too young, especially on the cover for the final book, Harry Potter and the Deathly Hallows. "He's only meant to be 17, and he's always described as being quite slight. Ron is meant to be tall and skinny. The problem is in the film Daniel Radcliffe and Rupert Grint are grown men by that point, and they've been working out."
Duddle's favorite is Snape, whose nose was changed to a slimmer, more hooked version after a note from Bloomsbury:
Read more about how Duddle's drawing process for Harry Potter at The Telegraph's article.