You've probably seen it: a stock photo of a white-haired old man in a plain red turtleneck with the words "guess I'll die" scrawled across his chest. But the story of how Mike Baldwin, a 76-year-old retired chemistry and biochemistry professor, actually became the internet's preeminent expression of fatalism has remained a mystery. As it turns out, an ailing artist's late-life career shift collided with an Atlanta man's frustration over healthcare costs, resulting in a meme about dying that found life online.
How Baldwin's image originally landed in the hands of Atlanta resident Adam Davis—a meme-making metalhead with a dog named Slayer—is difficult to pin down. "I'd like to say I was the first to use Mike's photo but that just simply isn't true. It was already known in the meme community," Davis told Gizmodo over Facebook message. The first recorded use of the photo as a reaction image on an internet forum, based on Tineye image search results, comes from a 2011 Fark thread. Early "depression memes" were already prevalent by then, but by all accounts Davis was the first to pair the image (which Baldwin himself refers to as "shrugman") with its now ubiquitous "guess I'll die" catchphrase.
Davis posted his creation in the Facebook group Useless, Unsuccessful, and/or Unpopular Memes on January 6th of last year and watched as it racked up likes and shares. Although no one could have known it from the post alone, "guess I'll die" was a personal reaction to Davis's grim financial outlook at the time.
"I was shopping for health insurance and I was struggling financially. They had just raised my property taxes on my house for the 3rd year in a row and I was living past my means and watching my savings disappear slowly," Davis wrote. "I went to meet with a healthcare advisor and left that meeting feeling completely distraught. I sat in the parking lot afterward and audibly said to myself the words that became the meme: 'You're too poor to afford affordable healthcare' [...] followed with, 'Guess I'll die.'"
G/O Media may get a commission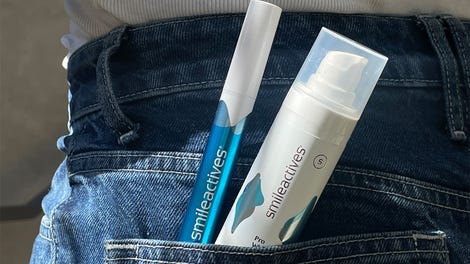 58% off
Whitening Powerhouse Pen & Gel Duo
Davis made the meme right there in the parking lot.
Baldwin only recently became aware of the internet celebrity he'd acquired from the photo his wife Ann had uploaded to iStock back in October of 2009. Looking through the others he's posed for, it's surprising shrugman was the one to take off—getting plastered on coffee mugs, t-shirts, and all-over print dresses—when faced with competition like "Senior man in jester hat," "Healthy senior enjoying a fesh apple," and "Old man fallen downstairs in home."
The most recent stock photos of Mike show him wearing heart monitors and a hospital gown. Initially, I'd feared the "guess I'll die" guy had passed away. In truth, he's perfectly healthy, and his wife is the one who was ailing.
"Ann spent several years as a serious painter and we had an art studio in our home. Due to arthritis she cut back on painting and we started taking photography classes," Baldwin told Gizmodo over email. The couple converted Ann's painting studio for photography and soon realized there was an untapped market for stock photos of seniors. Together—and often with a variety of oddball props—they shot hundreds of them.
But what started as an unlikely date night activity blossomed into an accidental contribution to an online culture neither of them knew much about. "I was totally unaware of meme creation and I was amazed to learn that people used this as a creative outlet. I assumed it would fade into obscurity but have now realized it has been going on for several years," Baldwin wrote.
Many of the photos the Baldwins have created together are inexpensive to download, but it's unlikely any of the people contributing to this meme (or the online storefronts peddling Mike's face on various low-quality products) have ever paid a penny for them. "We didn't know there were products with the meme on them until one of my grandsons found the t-shirt online at redbubble.com," Baldwin wrote. "My daughters bought it for my birthday as a joke."
He posted a picture of himself wearing the gag gift—while shrugging, of course—to Facebook. It finally brought Adam and the Baldwins in contact with each other.
"I didn't want to do too much digging. I was afraid he might not find the whole thing very funny. People were selling his picture on shirts with a catchphrase that [I'd] created. If you do an image search on google with the words 'guess I'll die,' its just the same picture of him over and over again," Davis told Gizmodo. "Once he posted the picture of him wearing one of the shirts though, I reached out and spoke to his wife who said the whole family found it amusing. I was quite relieved to hear that."
The Baldwins don't seem upset at Davis's joke or the unlicensed use of their work, nor do they seems all that eager to embrace meme culture at more than an arms length. For his part, Mike's only qualm is that the cartoon versions of shrugman don't look enough like him.