Matt Smith offers a joyous preview of Doctor Who's new season. Director Len Wiseman explains his editing process for Total Recall. Plus Frankenweenie character posters, American Horror Story and Once Upon a Time casting updates, and more!
Spoilers from here on out!
Top image from Fringe.
The Avengers 2
In case you were wondering, Jeremy Renner doesn't have any more an idea than we do when Hawkeye will return:
"It's a great character. There's a lot to explore there for me personally but I have no idea where they'll go with it. That's another sort of, [there are] puppeteers, they have their own ideas. … I have no idea what's going on, people are probably more informed than I am of the reality of me being in another movie."
It seems certain Hawkeye will be back in Avengers 2, and almost as certain that he won't be in Iron Man 3. So then, it's really just whether he pops up in the Captain America or Thor sequels — or, I suppose, the Guardians of the Galaxy movie, though that seems even more unlikely — that remains an unknown. [MTV via Comic Book Resources]
---
Total Recall
Director Len Wiseman reveals that the final cut of the movie is about an hour and 49 minutes, down from the original cut of two hours and twenty minutes — and about seventeen minutes shorter than the director's cut that Sony allowed him to make in parallel with the theatrical cut. Here's how he explains the editing process and how the cuts differ:
"This is more of a director's cut, this is closer to my original cut. I'm not saying anything that's unknown, but movies are always cut down and there's a lot of complexity within the film that is not always widely accepted by the general audience, which is just a reality; a movie of a certain size, they don't want people to be too — it's a balance of how deep to keep going with these ideas... Whenever you see a director's cut, how many times do you see a director's cut and it's like, 'All the action put back in!' Doesn't happen. It's always from a director's point of view, from a storyteller — usually — of all the scenes that you wanted to continue, to just expand on them a little bit more. I'm fascinated by the dilemma of the fantasy vs. reality and the kind of chess game that is played. There are scenes where it really comes into question about questioning his whole reality: I love that game, that's why I did this movie. So there's a lot more of that, so it often can feel like, 'Is it repeating?' I personally don't feel like it is, I feel like it's really diving in and really just chewing on it for a while, so I'm fascinated by that."
G/O Media may get a commission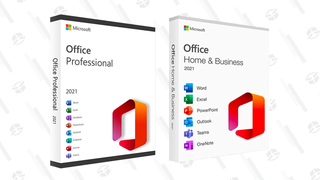 89% off
Microsoft Office Professional 2021 Lifetime License
It sounds like the director's cut is going to question reality and mess with the audience's mind more than the theatrical cut, but you'd have to assume that aspect will still be well represented in the theatrical cut as well. [Collider]
---
Magic Kingdom
Iron Man director Jon Favreau says he's going to take his time with this one, after being saddled with pre-announced release dates on his last three movies. And he drops some hints about how this movie combines all of Disney's intellectual properties:
"It's going to be a family in the park. It's an alternate reality version of the park that they get launched into. So much of it is just how it weaves together as a tapestry and what the visuals look like in creating this rich world. It's informed by everything that I remember and know about the park from going there since I was a small child... It's definitely informed primarily by Walt's vision of the park, even before and immediately after it opened. A lot of it for people our age there'll be a nostalgic element to it. People who know Disneyland are going to see that we did our homework, but then it's ultimately an adventure that's going to be for the family and for the kids too. I had a lot of fun playing to that type of crowd with Elf and Zathura. This seems to be mixing elements from all the films I've done, from Iron Man, Cowboys & Aliens, Zathura, Elf all rolled into one project that really is calling upon everything I've learned up to this point."
There's tons more at the link. [Crave Online]
---
Byzantium
Here are some promo images from Interview with the Vampire director Neil Jordan's return to the world of vampires, starring Quantum of Solace's Gemma Arterton and Hanna star Saoirse Ronan. [Dread Central]
---
Frankenweenie
Here are some character posters for Tim Burton's stop-motion remake of his thirty-year-old short film. Each poster comes with an accompanying description, so here we go:
MR. RZYKRUSKI (voiced by Martin Landau)
Mr. Rzykruski is the new science teacher at New Holland Elementary School. He has a thick, Eastern European accent and a unique way of explaining things. He connects with his students; however, parents misunderstand his passionate teaching style. Mr. Rzykruski serves as a mentor and inspiration to Victor, teaching him that science can do both good and bad things and that if a scientist does not put his heart into his experiment, there could be disastrous consequences.
MAYOR BURGEMEISTER (voiced by Martin Short)
Mr. Burgemeister is the Frankensteins' next-door neighbor and Mayor of New Holland. A crotchety fuss-bucket, he is fanatical about his garden and can't stand Sparky or anything else that threatens the perfection of his tulips. Mr. Burgemeister also asserts his authority over his niece Elsa Van Helsing by making her the reluctant star of his New Holland Dutch Day celebration.
NASSOR (voiced by Martin Short)
Nassor is highly intelligent, serious and intense. He takes a darker, more doomsday view on life than the other kids in New Holland. Nassor is instantly skeptical of the rumors surrounding Victor's experiments with electricity, but once convinced, he is zealous in his quest to obtain Victor's secrets.
WEIRD GIRL (voiced by Catherine O'Hara)
Weird Girl doesn't fit in well with the other kids in New Holland, but it's easy to see why-she delivers ominous pronouncements in a monotone voice with an unnerving stare. Her constant companion is her fluffy, white cat Mr. Whiskers, whose unblinking gaze matches her own. The other kids give them a wide berth-especially when Weird Girl rambles about Mr. Whiskers' dreams.
EDGAR "E" GORE (voiced by Atticus Shaffer)
Edgar "E" Gore is a needy misfit who doesn't have friends but is desperate to be Victor's partner for the science fair. In his attempts to be accepted 'E' tends to mess things up and often fails to think before he speaks. Even though 'E' promises not to tell Victor's secret, he accidentally spills the beans.
You can click on any of the posters above for a closer look. [Shock Till You Drop]
---
The Watch
Here's a video featuring interviews with stars Ben Stiller, Jonah Hill, Vince Vaughn, and The IT Crowd's Richard Ayoade for their suburban alien invasion comedy, which opens today. The video also features some clips from the film. [IGN]

---
Jurassic Park 4
Producer Frank Marshall categorically denied the rumors that the fourth Jurassic Park movie will involve the government creating weaponized dinosaurs (as though the dinosaurs in the first three movies weren't plenty weaponized already). Anyway, he says that definitely isn't what the fourth film will be about. [Crave Online]
---
Doctor Who
Harry Potter and Game of Thrones actor David Bradley is set to appear in "Dinosaurs on a Spaceship", the second episode of the upcoming seventh season, and here's how he describes his character Solomon:
"He is a space pirate. We've modeled [him] on a well-known nightclub owner with long hair. He has lots of scars [and] he wears black leather. [He's] like an old rocker. He... runs a ship the size of Canada. He has two giant robots who are a bit rusty."
Well, it sounds like it's his spaceship on which these dinosaurs are likely to be found. [Digital Spy]
Matt Smith talks about Ben Browder's appearance in "A Town Called Mercy", the third episode of the season, that takes the TARDIS to the Old West:
He did really well. He's great in it, actually. He brings that sort of American naturalism which we Brits just don't have, however hard we try. Yeah, he was great. He makes a good cowboy. He has that great drawl. And the wonderful Adrian Scarborough (The King's Speech) is in that, he just steals the whole episode. He's fantastic.
He also discusses the episode he's currently filming, which is the one guest starring Diana Rigg, and he reveals a line from the episode:
Well, we're doing a Mark Gatiss script. He's written numerous Doctor Who episodes. We've got Diana Rigg, Dame Diana Rigg - Emma Peel! (Rigg played Peel on the beloved '60s U.K show The Avengers)! I mean, she is one of the first kick-arse women. It's wonderful. What an actress! What a lady! We're thrilled to have someone of her caliber on the show. I think Mark has written a wonderfully sprawling episode. Let me read you a line. This is an exclusive! "Well, thanks a million, you three. Have some Pontefract Cakes on me." So there we go. I'm giving it all away! It's a great episode. The Doctor's in a cool new Victorian costume. I get a hat and a three-piece suit. I'm having a ball!
There's more at the link. [EW]
---
Fringe
To update yesterday's story, it now appears that production will be shutting down until August 7, not just until the end of the week. This is reportedly because John Noble is seeking treatment for a sleep disorder. The current word is that the hiatus isn't expected to go beyond August 7, and it shouldn't affect the show's slated September 28 season premiere date. [Deadline]
---
Once Upon a Time
Sinqua Walls, who played Jamarcus Hall on Friday Night Lights and pack member Boyd on Teen Wolf, has reportedly been cast for at least one episode as Sir Lancelot, who is described as "a sword for hire with nothing to lose." Considering Walls's relatively young age, one might think that would place Lancelot before he joined the Round Table, but it sounds as though this is actually set after he was banished by Arthur over the whole affair with Guinevere thing. [TV Line]
Separately, British actor Julian Morris (Pretty Little Liars) will play the previously announced character of Prince Philip, who's seeking to awaken Sleeping Beauty. He's described as "a man who's traveled from a kingdom that's in decline... [and] a young, skilled warrior and selfless hero who's the veteran of many tough journeys." [EW]
Episode four is reportedly set to introduce Captain Hook of Peter Pan fame. Here are a couple additional parts from the episode:
Milha, a woman who's often at her village's tavern and is bored with being a wife and mother. Yearning for adventure, she joins a band of thieves.

Beaman, a criminal who deals in stolen antiques. This role may be recurring.
ABC has revealed that the second season will premiere on Sunday, September 30 at 8:00 PM. [EW]
---
666 Park Avenue
ABC's show about a paranormal apartment building owned by Lost's Terry O'Quinn is set to debut two hours later on the same night as Once Upon a Time, at 10:00 PM. [EW]
---
Last Resort
Finally, the most intriguing-looking of the new network dramas, in which Men of a Certain Age star Andre Braugher is the captain of a nuclear submarine who declares his sub an independent country after being betrayed by his government, is set to debut at 8:00 PM on Thursday, September 27. And, if we're very, very lucky, it'll be back the next week, too. [EW]
---
Revolution
Executive producer Jon Favreau, who also directed the pilot of NBC's show about a world without electricity (or something to that effect), explains the premise and why it appealed to him:
With this show, the laws of physics seem to have changed. So, while there's an underlying mystery with an internal logic to it, we still want to make it about the people and the emotion... As I saw the sword fights, and the simpler times and the more brutal times, it presented itself as a moment where you had to stick together. The good people stuck with the good people. The people who were trying to create society and keep chaos from asserting itself had to struggle and sacrifice a great deal. That's the heroic, aspirational quality to this that I think the visuals reinforce by making it something where you're entering into another world... We didn't want this to be a dystopic view of the future, especially because it's told through the lens of two different generations. You have the people who were there before the lights went out, 15 years ago, and then you have the new generation that never knew the old ways. So, while people are struggling to hold onto shreds of the old society, and struggling to get the lights back on and figure out the solutions to the mystery, there's Charlie's generation, who see this almost as a pastoral, simple place that they grew up. This is the only world they know. And we wanted to show a lot of the show through their eyes, so it didn't feel like The Road or Mad Max, but instead felt like this wonderland.
There's plenty more at the link. [Collider]
---
American Horror Story
Step Up actress Jenna Dewan — otherwise known as Mrs. Channing Tatum — has reportedly been cast as the other half of "The Lovers", joining Maroon 5 frontman Adam Levine as a pair of amorous, probably not particularly clothed young people. How exactly these characters fit into the show's second season, which is set in a mental institution in 1964, is still very much anyone's guess, and there's no guarantee we'll understand it even once the season is finished. [EW]
---
Falling Skies
Moon Bloodgood reveals what she would like to do on the show, particularly now that it's been renewed for a third season:
I would love to do more scenes with other characters. You start out on a show and you kind of get paired up with other people. You know, it's such a big ensemble cast they can't cover everyone. But now as we go into season three it would be so great if, like, Karen and I got more stuff or Pope and I got more stuff and you can see how they relate differently because I think it puts a little more color into the show.
There's more at the link, including where Bloodgood and her costars theorizing on why Falling Skies has succeeded where other alien shows like V have failed. [Collider]
---
Misfits
Here are some promo photos from the upcoming fourth season. [SpoilerTV]
---
The Vampire Diaries
Kat Graham offers this preview of the fourth season:
"Oh gosh, it's good. It is really good. This is a season where Elena is in transition to become a vampire and then Bonnie is going to start to dabble in some crazy things. We get to see her going into another side maybe fans have yet to see her in. It's cool."
[E! Online]
---
Beauty and the Beast
Brothers and Sisters actor Luke MacFarlane will guest star in the second episode of the CW's update of the 1987 Beauty and the Beast series, in which Smallville's Kristin Kreuk is a cop who teams up with a man turned into a beast in some particularly bizarre military experiment. MacFarlane will play Phillippe Bertrand, described as "the exacting yet talented artistic director the of the Bertrand Ballet Company who's intrinsically involved in his dancers' lives." Kreuk's character encounters him when the company's prima ballerina is murdered. [TV Guide]
---
Continuum
Here are some promo photos for episode nine, "Family Time." [SpoilerTV]
---
Lost Girl
The third season will reportedly delve deeper into the Dark Fae world, as well as reveal "a bit more about Trick and Dyson, with Trick having chosen Dyson at some point." There are some more hints at the link. [TV Fanatic]
---
Additional reporting by Rob H. Dawson and Charlie Jane Anders.