The iPhone 6 is here! It's sleek and rounded, just like the leaked photos we've been seeing for months. But now we finally know what's inside that Jony Ive-designed shell. How's it measure up to the stiff smartphone competition? Let's see.
First things first, screen size. Apple boosted the iPhone's screen to 4.7 inches diagonal, up from just four inches on the iPhone 5. That's still smaller than the competition, most of which has passed the five-inch mark. But then again, Apple's also introduced a 5.5-inch jumbophone, the iPhone 6 Plus, to perhaps satisfy the lust for bigger screens.
It's worth noting that the regular-size iPhone 6's Retina HD display only musters 1334 x 750 resolution and 326 ppi, while every other phone in this chart hits the full 1920 x 1080 and greater than 420 ppi. Given how Retina works, that's perhaps an apples-to-oranges (hah!) comparison. Smartphone displays have gotten pretty amazing across the board, but if you're looking for the biggest HD screen in a "normal" size phone, nobody can beat the new Moto X and its 5.2 incher right now.
G/O Media may get a commission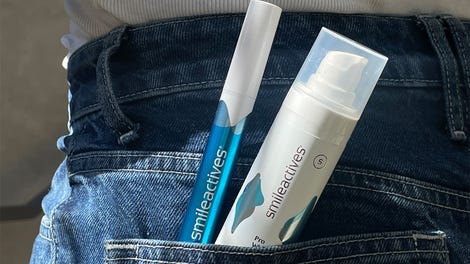 58% off
Whitening Powerhouse Pen & Gel Duo
On storage, too, Apple is going for the (much) bigger is (much) better mantra: The company has done away with the mid-range 32GB iPhone, opting for 16, 64, or a gargantuan 128GB of built-in storage. The new-for-2014 HTC One M8 and Samsung Galaxy S5 can both stretch to 128GB, but they require a MicroSD card to get there. It's up to you, I suppose, to decide whether removable storage is a blessing or a burden.
Apple gave the iPhone a big boost with two new powerful chips: The A8 dual-core processor gets 13 percent smaller, 25 percent faster, and a full 50 percent more energy efficient compared to last generation's A7. That last number is particularly important, since the regular-size iPhone 6's battery, on paper, is pretty puny compared to the 2800mAh reactor in the Galaxy S5. It's worth pointing out that, while the A8's 1.4GHz and 1GB of RAM look pitiful compared to the Moto X and Galaxy S5, Apple's chip is optimized in-house, giving Apple the chance to take full advantage of that revved-up new processor.
Then there's the M8 fitness tracking chip, which can track your activity when you're running, walking, cycling, or climbing stairs—the built-in barometer senses elevation changes. More on the M8's capabilities here.
And while the new "smaller" iPhone is still considerably taller than last year's model, compared to the competition from the Android and Windows Phone camps it's still positively svelte. If you're looking for a phone that won't burden your pockets, the iPhone 6 has the lowest profile of all the flagship smartphones (Nokia's Lumia Icon is ever so slightly shorter, but wider and thicker). The newest iPhone is way thinner and way lighter than the competition.
Other than that, small details abound. Apple has finally blessed the iPhone with NFC, as part of a pretty comprehensive plan to make your cash and credit cards obsolete. Apple's quite late to the NFC game here, but maybe Apple Pay can give the fledgling tap-to-pay tech the boost it needs to gain widespread acceptance?
We know numbers don't tell the whole story; iOS 8's significant new features will have as much to do with the user experience as the guts inside that taller, trimmer new shell. But everyone has their own requirements for what's most important in a smartphone. Compared to the competition, how do you think the iPhone 6 stacks up? Tell us in the comments below.