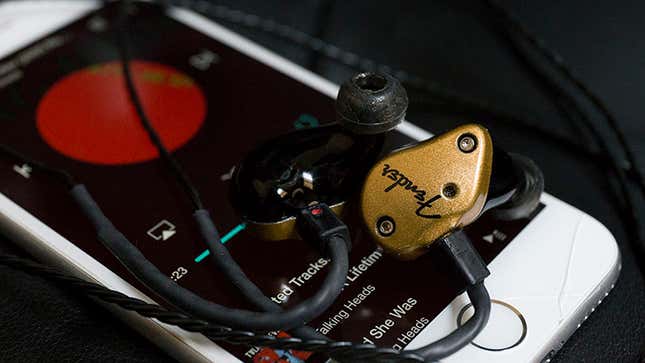 Chances are you've signed up to at least one streaming service—but are you making the most of the best-quality music on offer? A quick audit of your apps can boost both streaming and downloaded bit-rates, so you're always assured of the highest fidelity audio flowing through your pricy headphones to your eardrums. Which means you hear more of the music and a little less of the noise that can accompany lower quality music files.

Twitter Is Shifting Right | Future Tech
Just about every streaming music service out there now enables you to set music quality through the associated apps, though there may be some restrictions if you're not a paying customer. Bear in mind that higher-quality music means more data, so double-check your carrier plan if you're streaming on the go, or cache your favorite playlists over Wi-Fi before you leave the house.
Spotify
As far as the options available in the mobile apps go, Spotify says "Normal" is equivalent to approximately 96kbps, "High" to 160kbps, and "Extreme" to 320kbps. Alternatively you can select the "Automatic" option and have Spotify decide for you based on the strength of your network connection.
Once you've decided how high the fidelity of your music should be, go inside Spotify's mobile apps, tap Your Library, then the settings cog icon—on iOS you need to tap Streaming Quality as well, and on Android the option is on the first screen under Music Quality. On the desktop clients, tap the downward arrow near your account name (top right), then Settings, then toggle High quality streaming to On.
Google Play Music
There's no desktop client to worry about for Google Play Music and no quality setting in the web player either, but these options have just been added to the mobile apps. Tap the menu button (top left), then Settings, then either Quality on mobile network, Quality on Wi-Fi network, or Download quality.
Three or four options are available in each case, but Google hasn't revealed what bitrate these settings correspond to, and is pretty cagey about revealing the supported bitrates across its service as a whole (although it does appear to match Spotify's 320kbps).
Apple Music
If you've signed up for the Apple Music streaming service, then there's one toggle switch for enabling high-quality streaming over cellular networks, but no such option for downloads, which presumably are always high quality. From iOS Settings, tap Music then Mobile Data; from the Apple Music app on Android, tap the menu button (top left), then Settings, then look under Playback.
You won't find any quality adjustment settings in iTunes for macOS or Windows, but Apple has confirmed its tracks stream at 256kbps AAC (a lower bitrate than Spotify, but a less lossy codec).
Deezer
In Deezer's mobile apps, to adjust streaming and download quality over cellular networks and Wi-Fi, tap My Music, then Settings, Audio settings and Custom (or choose one of the preset configurations). The same options can be found in the clients for Windows and macOS (go to Settings then Audio settings).
Deezer doesn't give exact details of what the "Basic", "Normal", and "High Quality (HQ)" settings refer to, but presumably that HQ option matches up with the top tier 320kpbs quality. You can go higher too, but you need to shell out for a Sonos system and Deezer Elite.
Tidal
Tidal's headline feature is the 1411kbps FLAC top-end streaming quality it offers, but you don't have to go all the way up to this if you're looking to save on some data charges or cut back on bandwidth use.
On both the desktop clients and the mobile apps, you can adjust the sound quality for streaming music and downloaded tracks via the Settings option on the menu—look under the Streaming heading. On mobile there's also the option to have Tidal adjust the music quality based on your connection speed.