This week on TreeHugger, a giant robotic snake teaches us a lesson about climate change, a walkable roller coaster, new iPhone apps to try, and more!
1. A Walkable Roller Coaster For Those Afraid Of The Usual Kind
It is 21 meters (69 feet) high, although I am not quite sure how you do that top loop.
2. Build a Mini Rocket Stove from Upcycled Tin Cans
You just needs some tin cans, a pair of tin snippers and some vermiculite.
3. Clever! Geothermal Power Plants Could be a Massive Source of Lithium for Batteries
Geothermal energy has a bright future, especially when it comes to batteries...
4. This Phone App Will Help You Change Your Light Bulbs
And save money too.
5. Sleek OLED Lumiblade Lighting Design from Philips (Video)
A design for anyone who likes minimalism.
G/O Media may get a commission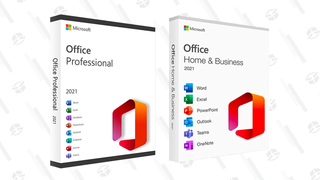 89% off
Microsoft Office Professional 2021 Lifetime License
6. The Kindle Fire Gets the iFixit Teardown Treatment, And Scores Big Points
The more repairable, the lighter the footprint; the iFixit team is impressed with this aspect of the Kindle Fire.
7. Giant Robot Snake Wants to Teach You a Lesson on Climate Change
60 million years ago, climate change made his flesh-and-blood kind extinct. Now he's back to teach you a lesson.
8. iPhone App Decodes Green Labels So You Know What's Really Eco-Friendly
Consumer Reports is helping us sort through the hype with a new iPhone app called Eco-Label.
9. GoodGuide Launches "Purchase Analyzer" To Help You Buy Better, Save More
Like "a Mint.com for online shopping," according to GoodGuide.
10. Detecting Plant Diseases? There's an App for That
Gene-Z is not only a gee-whiz project; it's designed to speed treatments and keep pathogens from spreading.