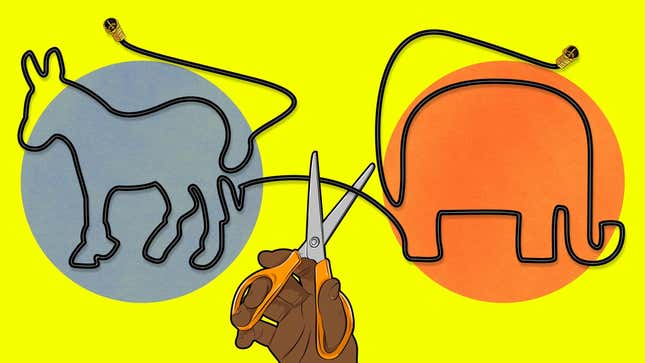 The second presidential debate between Hillary Clinton and Donald Trump is tonight at 9pm ET, 6pm PT. And after Trump's latest scandal, it's guaranteed to be explosive. If you don't have cable TV, you might be wondering how to stream the debate live. Well, Gizmodo has you covered.

The second debate is "town hall style," meaning that members of the audience will be able to ask questions. But tonight's debate, at Washington University in St. Louis, won't just include questions from the audience in attendance. Both Trump and Hillary will also get questions submitted via Facebook. And that's a first. The primary debates have done something similar, but this is the first time that candidates have taken questions from social media for a general election debate.
Historically, the town hall presidential debates have always been the most interesting. Unlike the other debates, candidates will be sitting in chairs and able to walk around, rather than standing behind podiums. The candidates are more literally face-to-face, which always creates fireworks. But with many members of the Republican Party currently distancing themselves from Trump over his comments about "grabbing women by the pussy," this debate will probably be even more colorful and unpredictable than usual.
YouTube
Whether you're watching on a computer or a smartphone, one of the easiest ways to watch the debate is on YouTube.
Twitter
Twitter is livestreaming Bloomberg TV's coverage of the second debate at debates.twitter.com. The pre-show kicks off at 8:30pm ET, 5:30pm PT.
Facebook
AltspaceVR - Virtual Reality
Just as they did for the first debate, AltspaceVR has partnered with NBC News to deliver a virtual reality experience of the second debate. If you own a Samsung Gear VR, HTC Vive, or Oculus Rift, you can go to AltspaceVR for more information. The 2D "virtual reality" experience is also available on Mac and PC.
Websites
Most of the major news outlets will also have livestreams on their homepages. There's CNN, Fox News, MSNBC, CBS News, ABC News, NBC News, C-SPAN, and plenty of others.
---
If you have a cable subscription, but want to watch one of the cable networks on your devices, you also have that option. We at Gizmodo call these the "half-cord" options. All of these require a cable subscription to login. So don't forget to borrow your mom's login details before attempting any of these.
CNN Half-Cord
Fox News Half-Cord
ABC's Martha Raddatz and CNN's Anderson Cooper are moderating this debate, and we'll see if either of them can manage the circus that's sure to unravel tonight.
Grab your popcorn and your emergency go-bag, and get ready for about 90 minutes of American democracy imploding before your very eyes.