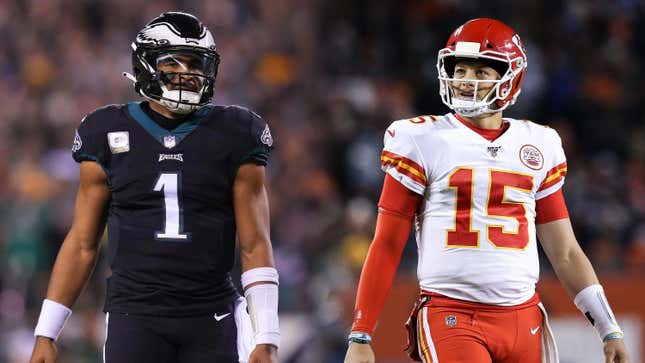 Super Bowl LVII (or Super Bowl 57, to the non-Romans) will kickoff this weekend as the Kansas City Chiefs square off against the Philadelphia Eagles. Last year's Super Bowl had over 112 million viewers, and 2023 year could bring even larger audiences, thanks to increasing numbers of people streaming the game online.

Even if football isn't your thing you might want to watch this year's game. The Super Bowl 57 halftime show will feature Rihanna on stage for the first time in years, plus performances from Babyface and Sheryl Lee Ralph. It will also have those great Super Bowl commercials to keep you interested in between the actual sports.
So go stock up on Super Bowl gadgets and get one of the best TVs for watching the Super Bowl. Here's how you can watch Super Bowl 57 streaming, online, or over the air.
When is Super Bowl LVII?
Super Bowl LVII (57) is happening on Feb. 12, 2023. Kickoff is scheduled for 3:30 PM Pacific/6:30 PM Eastern. If you're only interested in watching the halftime show, it should be on around 5 PM PT/8 PM ET. And if you like to tune in early, programming starts at about 3:00 PM Pacific/6:00 PM Eastern on Fox.
Where is the Super Bowl being played?
The game will be held at State Farm Stadium in Glendale, Arizona. It's also the home base for the Arizona Cardinals. This year, it's being broadcast on Fox.
This is the third time Arizona's State Farm Stadium has hosted the Super Bowl. The stadium hosted the New York Giants and New England Patriots in 2008 and the Patriots and the Seahawks in 2015.
Who is playing this Super Bowl?
The Kansas City Chiefs will play the Philadelphia Eagles at Super Bowl 57. Super Bowl betting odds may change before the kickoff, but as of the evening of February 8th, the Eagles are 1.5 point favorites.
How do I watch the Super Bowl?

Since the Super Bowl is airing on Fox this year, there's a few methods available to you.
First, you can use an over-the-air antenna to pick the signal up for free. You just need to be able to receive your local Fox affiliate.
Otherwise, you'll need access to cable TV either through the traditional method (via a cable box connected to your TV) or the streaming method (via services like YouTube TV, Hulu Live, and Sling TV). Apps provided through your cable or satellite provider, including Xfinity TV and Dish, will also have Fox available.

Your smart TV, set-top box, or streaming dongle might also try to steer you toward watching the big game from the main landing page. If you have Apple TV, Google TV, or Amazon's Fire TV, you can use the Fox Sports app and the NFL+ app (which used to be called GamePass) to stream the game. If you're coming from a computer, there's also Foxsports.com.
Audio listeners can listen in through Sirius XM and TuneIn through Westwood One.
Who is performing the halftime show?
Are you just tuning into the Super Bowl for Rihanna? I can't blame you. It's probably the only reason I'll be tuning in. You can watch her live on Fox during the halftime show, starting around 5 PM PT/8 PM ET. There's likely to be an official YouTube video circulating immediately after. Apple Music is also sponsoring the halftime show this year.
Chris Stapleton will open Super Bowl 57 with the U.S. national anthem. America's favorite step-mom and Golden Globe winner, Sheryl Lee Ralph, will sing "Lift Every Voice and Sing." And Kenny "Babyface" Edmonds, featured in my favorite season of the original Beverly Hills, 90210, is singing "America the Beautiful" before play-offs.
Troy Kotsur, the Oscar-winning actor from the movie CODA, will be signing the national anthem in American Sign Language (ASL). Colin Denny, a deaf member of the Navajo Nation in Arizona, will sign "America the Beautiful." And Justina Miles will sign "Lift Every Voice and Sing" and the halftime show.
What about the ads?
The Super Bowl is known for producing iconic advertising over the decades. This year, expect to see advertising from many tech companies, including Squarespace and Workday, which hired noted Super Bowl commercial staple Ozzy Osbourne. Popcorners will quickly reunite Breaking Bad, though it's disappointing that their chips aren't blue. Heineken also wants to remind us that Paul Rudd is seemingly immortal. Budweiser might trade out its Clydesdales for Kevin Bacon, while Jack Harlow makes a camera in the Doritos commercial. John Cena is also returning to our screens in an Experian ad. And we stan a golfing Serena Williams in this Michelob Ultra SuperBowl spot.