Creator Robert Kirkman shares tons of Walking Dead hints. One half of a two-headed giant previews Jack the Giant Slayer. Director Rich Moore previews Wreck-It Ralph 2. Arrow promotes its best supporting character. Plus G.I. Joe sequel and Oz prequel promos!
Spoilers from here on out!
Top image from Oz the Great and Powerful.
Guardians of the Galaxy
Marvel Studios visual effects producer Victoria Alonso discusses the prep work for writer-director James Gunn's big space opera, featuring at least two all-CGI characters, Rocket Raccoon and Groot:
Production has already started! Completely. It started months ago and we have an entire team in London already – we start shooting in June. Our director [James Gunn] travels next week and it's going, baby! It's a fast train to a beautiful place.

What makes me fascinated by the project is that you have five members of this team, and one of them is Rocket Raccoon, a talking raccoon, and another one is Groot, who is quite literally a walking tree. You're obviously not putting a person in a costume for those parts. Are those going to be fully CG characters? Are there plans to use motion capture again?
We're going to do a combination. You can't do any motion capture with a raccoon – they won't let you put the suit on [laughs]. But we will do rotomation, probably, for some of the behavior. Rocket will have his own personality, of course, and clearly we can't do mocap on a tree, per say, but we definitely will have performers to emulate what James Gunn will lead to be the behavior and the performance. He's very clear on where he wants to take the characters.
---
Jack the Giant Slayer
John Kassir, best known as the voice of the Crypt Keeper on Tales of the Crypt, discusses what it's like playing one half of a two-headed giant alongside the great Bill Nighy:
[I] got to work closely with Bill [Nighy] and we played a two-headed character. Bill being the larger head, we used his body, so I had to mimic Bill's body movements and then act differently with my head and right arm. It was really kind of a bizarre adventure right there. Bill being the generously wonderful actor that he is, was so open to having a great relationship with me and as a result we walked out on set everyday like we were a Vaudeville team. We just had a great time working on it. You can learn a lot from working with a guy like Bill Nighy...

Bill's head is the brawn and the brains of the character, and my head is the intuitive head. He kind of looks around and takes in information, basically feeding it to the other head. It was fun creating that. My character has no vocal chords so he talks with all these guttural sounds. I had to create a language for him. I created the dialog that only Bill would be privy to and understand. [laughs]
G/O Media may get a commission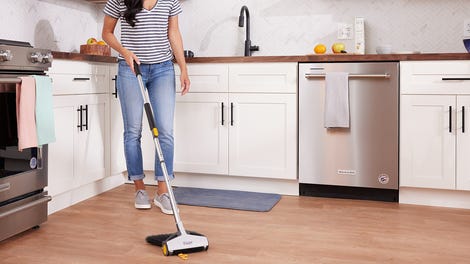 BOGO 50% Off
Flippr - BOGO 50% Off
He also discusses the story of Bryan Singer's fairy tale reimagining:
It's based off of Jack and the Beanstalk which was a kid's fairy tale and Jack the Giant Killer which is more of a legendary dark story of a kid who unwittingly opens a portal to the land of giants. The giants didn't have access to humans for five hundred years and they had gone on and disappeared into legend... Jack in his attempt to save the princess who is kidnapped by Stanley Tucci plays a hand in opening that portal. I don't want to give too much away, but the giants have access to the planet and Jack goes in to rescue the princess that was kidnapped.
Tons more at the link. [Comic Book Movie]
---
Oz the Great and Powerful
Here's a pair of TV spots for Sam Raimi and James Franco's Wizard of Oz prequel.

---
G.I. Joe: Retaliation
Here are two TV spots for the G.I. Joe sequel, featuring new stars Dwayne "The Rock" Johnson and Bruce Willis.

---
Wreck-It Ralph 2
Director Rich Moore says a sequel isn't yet confirmed, but he's confident it will happen sooner or later:
There's definitely a lot of interest from a lot of people: myself, the actors — Sarah [Silverman] and John [C. Reilly] especially — and all the artists and technicians at Disney. We're just kind of waiting for an official word at this point, but it definitely seems like something could happen. We're really keeping our fingers crossed. We had a great time, all of us working on the film, from top to bottom. I think it would be just awesome to work with that team again and return to that world.
He also discusses what new games and video game genres he wants to explore in the sequel:
There was definitely an old school one that I loved as a kid, and that was Dirk the Daring from Dragon's Lair. I loved that game. It was so different from other video games that had 2D animation in it. It was just very unique at that time, and it had things that I loved about both animation and video games within it. It really rekindled my love of 2D animation at just the right time, as a teenager. I really wanted that character in Wreck-It Ralph, but the legal red tape made it pretty impossible to get the rights to him. But it would be great to try and get that character freed up for a sequel, should there be one.

In Wreck-It Ralph, we saw the 8-bit classics, the '90s racers and modern shooters. Is there one particular game genre that you would want to explore next?
Definitely, as I said, that kind of social gaming aspect would be a lot of fun, but I also love mobile gaming. I don't exactly know how we could work it in, you know, things like Angry Birds and the With Friends games — only because I love playing them. It just seems like it would be great to work in a story about those types of games that are so prevalent and contemporary and part of today's culture. I would love to somehow work that into a sequel.
There's more at the link. [IGN]
---
Beautiful Creatures
Thomas Mann and Zoey Deutch, who play friends of the cursed lovers in the upcoming supernatural romance, discuss the appeal of the movie:
Mann:[My character] Link just seemed like a really lovable, fun character to play, who didn't take things too seriously and had this rebellious quality about him that he shared with Ethan. They both see bigger things for themselves and they both want to kind of transcend the life that's set out for them, in this small town. And the script was really smart. It's got this maturity to it. It has a lot of social commentary.

Deutch: It has bigger ideas than I think some people would expect. And it's done very classily. It's hard to please everybody, but I think, in terms of trying to, it does a really good job. It appeals to a very wide range of an audience, and it's an intelligently told, very funny story. I really don't think people are expecting to go into the movie and laugh their head off, but I'm going to tell you right now, yes I'm biased, but I laughed harder in this movie than I have in a lot of genre categorized comedies. I think it's a really funny and beautiful story, at the core of it being about true love, and about love without judgment and pining for each other.
[Collider]
---
The Walking Dead
Here's a promo for the next episode, "Home."

And here are two sneak peeks. [Coming Soon]

Comics creator Robert Kirkman previews what to expect from the rest of season three:
The short answer is "All kinds of awesome." We haven't seen Rick and the Governor face to face yet. That's definitely coming. We're going to see some pretty large scale confrontations between Woodbury and the prison. I mean, this is going to be a pretty explosive last half of the season and there's going to be a lot of large-scale cool stuff that you might not expect to see in this show. We're going to continue pushing the envelope and continue to do the unexpected. There's a lot of crazy stuff ahead. So buckle up.
He also confirms that Sarah Wayne Callies reprised the role of Lori for Rick's vision, and this might well provide an engine for departed actors to return:
Yes it was. And we may see her again. I'm not going to say!

Rick previously glimpsed a vision of Shane. Can we expect hallucinatory resurrections of other deceased characters?
Well, that would certainly be a fun thing to look out for. But I can neither confirm nor deny that we will be going in that route. You know, Rick's losing his mind and he's losing his mind at the exact wrong time because now we've seen that the Governor is on the march to war and is going to be coming after them. We're now going to see the Governor finally face Rick. But he's not going to be facing the strong, confident, capable Rick that we've grown to love. He's going to be facing this guy that we have now who may be incapable of withstanding that onslaught.
There's plenty more at the link. [EW]
---
Person of Interest
Here's the description for episode sixteen, "Relevance", which airs February 21 and features erstwhile Fairly Legal star Sarah Shahi as government operative Samantha Shaw:
REESE AND FINCH ENCOUNTER THEIR MOST FORMIDABLE POI EVER IN AN ELUSIVE AND LETHAL FEMALE GOVERNMENT OPERATIVE WHO ELIMINATES TERRORIST THREATS BEFORE THEY OCCUR – A lethal and sexy government operative who tracks and stops terrorist threats before they occur finds herself on the run – and the new focus of Reese and Finch's attention. However, their pursuit proves to be their most formidable when they discover that her remarkable skillset equals their own. Series Executive Producer Jonathan Nolan directed the episode. Sarah Shahi guest stars as government operative Samantha Shaw.
---
Revolution
Here's a promo for the show's return in March. [TV Equals]

---
Grimm
Assuming NBC remembers to actually bring this show back, the sixteenth episode will reportedly feature the show's take on Rumplestiltskin. The episode will also feature Lost alum Eric Lange as Dominick, described as "the owner of software company whose staff falls victim to dark circumstances and will do whatever he needs to do to help Nick and Hank resolve this case." [TV Line]
---
Touch
Here's the synopsis for the fifth episode, "Eye to Eye", which airs March 1:
WILL THE NUMBERS ADD UP TO AN EMOTIONAL REUNION? FIND OUT ON AN ALL-NEW "TOUCH" FRIDAY, MARCH 1 ON FOX — A race against time is triggered after Jake contacts Amelia with coordinates to a meeting location and both manage to escape their supervision. As Martin and Lucy desperately search for their gifted and determined kids, they uncover some critical details about Calvin's brain-damaged brother. Meanwhile in Mexico, Guillermo confesses his sins to a priest and faces a brutal decision
---
Arrow
Now that there will officially be a second season, time for some more good news — the show has reportedly promoted Emily Bett Rickards, who has been one of the show's consistent highlights as Felicity Smoak, to a regular cast member for season two. [TV Line]
And here's an interview with Emily Bett Rickards herself, in which she discusses the fallout of Felicity learning Oliver's secret in the next episode:
How does this affect her? Well I think when she finds out that Oliver is who he is, she's minorly shocked but everything makes sense. So everything Oliver has done or brought to her to do, all these jobs, just start to make sense. Everything becomes clearer. I think that affected her a lot. Also, she's put into 'Survival Mode', she and Diggle have to save Oliver. So that's it. That's huge. And then she starts to understand who Oliver really is without his biggest mascot. He still has barriers up, but we can look forward to seeing them getting to know each other better now.

A lot of fans are hoping that Felicity Smoak becomes involved with Oliver's operation. If this happens, do you hope for some action scenes?
I would love some action scenes, yes. I think that would be super-fun. I don't know if Felicity would be so co-ordinated but I think it would scare her and challenge her, and put her in really hilarious situations.
Here's a trailer for what's ahead in rest of the season. [EW]

Here are some promo photos for next week's episode, "Dodger." [SpoilerTV]
Chin Han, who played one of the supporting antagonists in The Dark Knight, has reportedly been cast in the recurring role of Frank Chen, described as "a successful businessman and old friend of the Queen family [who] has ties to The Undertaking, a mysterious group led by Malcolm Merlyn (guest star John Barrowman) that is up to no good in the Arrow's home town of Starling City." [Deadline]
---
The Vampire Diaries
Here's a sneak peek at this week's episode, "Down the Rabbit Hole."

Here's a new poster. [SpoilerTV]
---
The Originals
Prison Break actress Danielle Campbell has reportedly joined the Klaus-centric Vampire Diaries spinoff as Davina, described as "a young witch who has been over-sheltered by her protective caregivers." [Deadline]
---
Being Human (US)
Here's a promo and a sneak peek for next Monday's episode, "What's Blood Got to Do With It."

---
Additional reporting by Amanda Yesilbas and Charlie Jane Anders.