With ZTE facing the threat of losing access to Android after being slapped with a ban from buying parts from American companies by the DoJ, fellow Chinese phone maker Huawei may find itself in a similar position, now that it, too, is being investigated for violating U.S. sanctions in Iran.
However, a future without Android, which is the core OS found in almost every Huawei mobile device, may not be something the company is entirely unprepared for. Recently, the South China Morning Post reported that Huawei has been working on its own smartphone OS for years, since potentially as far back as 2012.
Actually, it seems Huawei's scope may be bigger than just working on a single OS, because according to the SCMP, Huawei is developing multiple OSes that could run on phones, tablets, and PCs. This strategy would position Huawei more closely to Apple, who has seen great success thanks in-house development of macOS and iOS.
It seems Huawei's OS development isn't really a big secret either, as Zhao Ming, president of Huawei's Honor sub-brand, said at an event last week in Beijing, "There is no doubt that Huawei is capable of doing it," before finishing by saying "But for now I don't think it is necessary since we work very closely with Google and will continue to use its Android system."
G/O Media may get a commission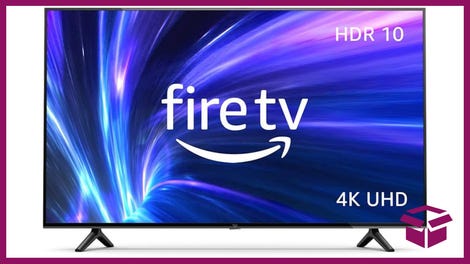 42% Off
Amazon Fire TV 50" 4K Smart TV
While Huawei's development of its own OS might seem like preparation for an uncertain future, it's not an entirely uncommon practice in Asia, where companies like OnePlus already ship phones with different OSes depending on the where the device will be sold.
In the US, OnePlus phones ship with OxygenOS, which is a lightly modified version of stock Android. Meanwhile in China, the same OnePlus phones come pre-loaded with Hydrogen OS, which is also based on Android, but doesn't come with the Google Play Store or any first-party Google apps pre-installed.
Samsung also has its own OS alternative in Tizen, which has found its way into a handful phones, in addition to many of Samsung's flagship wearables like the Gear Sport.
While the report doesn't mention what platform Huawei's alternate mobile OS would be based on (Linux, Windows, or something else), it's possible that Huawei could just be creating it's own fork of Android. However, while large parts of what people think of as "Android" are free and open-source, smaller pieces like Google Play Services, which many apps require to function, are not. And of course, individual apps and features like Gmail, Google Maps, and the Google Assistant are also copyrighted, which means Huawei might have to forgo those components in the event of a ZTE-like ban.
And even if Huawei does have its own OS, if the company is forced off of traditional Android and onto something else, it would still pose a huge challenge for the world's third largest smartphone maker.

[SCMP]