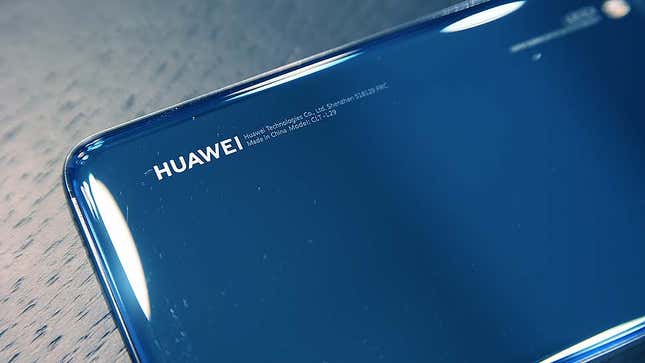 In 2017, the US Department of Commerce fined ZTE almost $900 million for violating sanctions by illegally shipping US goods to Iran. Then, last week the DoC stepped up the punishment after ZTE failed to fully comply with its restrictions by slapping a ban on ZTE, preventing it from purchasing parts and components from all US companies for the next seven years.
Boogeyman Star Sophie Thatcher Wrote Howl's Moving Castle Fan Fiction | io9 Interview
However, it seems the US government isn't quite done searching for rule breakers, because now the Justice Department has turned its sights on Huawei, which according to The Wall Street Journal is also being investigated for possibly side-stepping the US' sanctions on Iran.
This probe is just the latest in a string of increasingly hostile policies and agendas that seek to push the Chinese networking and smartphone giant out of the US. Just before CES, rumors broke that AT&T had backed out of a deal with Huawei to carry the company's phone in its retail stores, a move largely spurred by fears that Huawei may be using its phones to spy on Americans.
Verizon later followed suit at the end of January when it also pulled out of an agreement to carry Huawei phones in retail stores. Then in February, things became even more heated when the heads of several major intelligence agencies including the NSA, FBI and CIA broached concerns to the Senate Intelligence Committee, with FBI Director Chris Wray saying Huawei "provides the capacity to maliciously modify or steal information. And it provides the capacity to conduct undetected espionage."
However, despite some pretty bombastic claims about Huawei being a potential security risk, US Intelligence agencies have yet to provide any evidence of Huawei actually spying on its users. As for the latest investigation regarding the Iran sanctions, The Wall Street says it's still "unclear how far the Justice Department probe has advanced."
Without getting too far into tin foil hat conspiracy theories, at some point you have to wonder if the US government isn't simply looking for any sort of violations it can use to push Huawei out of the country, regardless of the severity or reason.
In regards to Huawei's measly one percent market share for telecommunications equipment in the US, Senator Tom Cotton said, "That pleases me, although it's not zero," before adding "And that's where I'd like to get it."