At CES today, I got to preview Hulu's upcoming live TV product, and I have to say it made a great first impression. In fact, if Hulu can deliver on the interface and vision it's promising, this might be the cordcutter solution we've been waiting for.
Way back in May, Hulu confirmed that it would be launching a live TV product to compete against the likes of Sling TV, PlayStation Vue, and even traditional cable, sometime in 2017. Over the last few months, more details about the as-of-yet unnamed service have started to trickle out—including what content providers have signed on—but we've been waiting for more information.
Now, finally, more of those details are leaking out. Earlier this week, Hulu confirmed that CBS content would be on the live service, joining Disney (ABC, ESPN), Fox (Fox News, Fox Sports, FX), and Time Warner (CNN, TBS, TNT, Cartoon Network). Right now, the big content provider missing is NBCUniversal, though Hulu told me it's actively working on the big content deals.
And although we don't have a solid release date yet—Hulu simply says it will debut in the coming months—the company's CEO confirmed the price would be under $40 a month, which compares favorably to offerings from AT&T and Sony. I asked Hulu if the $40 was really $40, or if it would cost a lot more once you got bells and whistles involved (you know, like DirecTV Now). I was told that they aren't focusing on tiers, but instead want to make the pricing easy. That wasn't a definitive "there will never be any tiers" statement, but I get the sense that there will be one plan and it will cost under $40.
The huge advantage that Hulu will have over existing skinny bundle and cordcutting services is that its live product will integrate seamlessly with the existing Hulu service. So if you subscribe to Hulu's new live service, you also get access to the entire Hulu catalog of content. Moreover, you'll even get access to video on demand content that might not be in Hulu's regular library, as part of the live content offerings. Hulu told me that it is working on also being a TV Everywhere sign-in provider for the future too, which should make plenty of cordcutters happy.
G/O Media may get a commission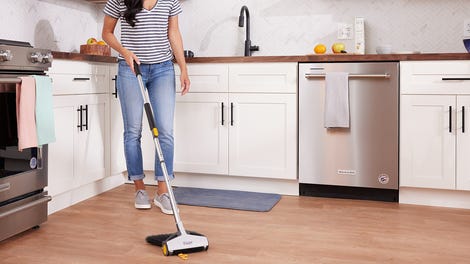 BOGO 50% Off
Flippr - BOGO 50% Off
The entire goal of Hulu's live product is for the user to not have to worry about whether the content they are watching is live or on demand. The user should be able watch what she wants, regardless. This is a big shift from other live streaming services, which offer universal search but still segment the viewing guide into different categories.
Although a lot of specifics about the service are still undisclosed—there's no word on how many concurrent streams a user can have (currently, Hulu's terms of service support one stream at a time, though in my experience I've often been able to do two, depending on the device)— I was able to get to experience what the service will look like.
Hulu showed me it's brand new user interface, which will be available for live and subscription video on demand (SVOD) users, and I have to say it looked great.

It's important to note that first and foremost, Hulu is targeting existing subscribers with its new service. That isn't to say that non-Hulu users won't enjoy the experience—and I think that if they can get the content value right, this could actually convince a lot of people to pay for Hulu—but the product was definitely built for people who already spend a ton of time watching Hulu.
You get started by telling Hulu what types of shows, genres, and networks you like to watch. This helps Hulu personalize the content you see on the main home screen. If you want to search for specific programming or browse all live or on demand content, you can still do that, but Hulu really wants to show you the stuff you want to actually watch.

These types of personalization approaches aren't new, and some of the other cord-cutting services have tried similar things, but Hulu's approach is the best I've seen, largely because it has such a large library of existing content.
One of the coolest features is that when you do watch a live show, for supported programming (Hulu wouldn't let me know what providers will support this now), you can actually rewind to watch the beginning of a show.
Hulu will also have a built-in cloud DVR, though the amount of storage space offered isn't being announced at this time. The cloud DVR can record live programming that isn't in Hulu's existing catalog (think sports games or network TV shows from CBS), but if you choose to watch a show or movie that is airing live later that is in Hulu's catalog, it'll add the best version of the content to your queue for you.
So for example, if you see that an episode of Seinfeld is airing on TBS and you're like, "I want to watch this later," rather than recording the TBS copy (which is syndicated, and thus, missing scenes), Hulu will grab the full version from its archive and add it to your list. The same goes for movies.
When it comes to advertising, the live product will have ads. But Hulu offers an ad-free version of its subscription service for an extra few dollars a month. I asked if the Hulu live product will also have an option to eliminate ads for its non-live content, I was told that the company would need to find a way to explain to users why some content has ads, but other doesn't. So take that as a maybe.

When Hulu's live stuff launches, it will initially work on the fourth-generation Apple TV, iOS, Android, Chromecast, and Xbox. Devices such as Roku will follow soon after, and you can expect TV makers who have the SVOD Hulu built into their products to get updates at some point too.
Still lots of questions
Look, right now, Hulu's live service has the potential to be the best live TV streaming option I've seen.
Of course, we've been burned before. Sling TV, PlayStation Vue, and DirecTV Now have all been disappointing in various ways, whether it was because of the interface, the amount of content available, or general bugginess with streams.
Hulu has an advantage in that it's been running a streaming service for nearly a decade and has millions of subscribers, but that still doesn't mean that this is a slam dunk.
In addition to final content list, there are big questions about stuff like how many users can watch things at once, what types of shows support instant rewind when watching live, and how the cloud DVR storage will work. And that's to say nothing of the issues that make it impossible for people who live in markets where local stations aren't owned by the networks to stream them live. It's possible Hulu can convince the networks to offer their primetime programming regardless of who owns the station, but it's also possible that the local channels component will only really work for a certain group of people.
These currently unclear details will ultimately determine whether or not the service has legs. So I'm skeptical, but I'm also optimistic because if Hulu can deliver on its promise, this might be good enough for me to finally cancel cable.