Photographer Laurie Brown documents the edges of cities, where streets uncoil into the drought in the distance and pieces of suburban infrastructure reveal themselves like unnamed monuments on the periphery.
For more than two decades, Brown has been working in Las Vegas, peering back in from the outskirts to show, in these gorgeously cinematic panoramas, the slow spread of housing developments, golf courses, and dusty roadwork into the surrounding desert.
G/O Media may get a commission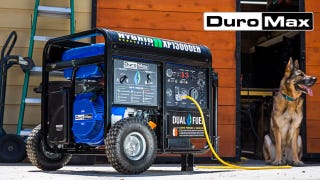 Black Friday Sale
DuroMax Generator Sale
According to the Nevada Museum of Art in Reno, where Brown's photos are on display until December 8, her images are like surreal visual catalogs of "lush green grass, artificial waterways, and tropical palm trees set against a stark waterless desert landscape."
This is one of the "paradoxes of life in the desert," the Museum adds, that these "easily overlooked peripheral areas" are often, in fact, "vulnerable wilderness areas" tragically ill-equipped with the rapid—in ecological terms, nearly overnight—appearance of houses and suburbs.
Brown's newest book, Las Vegas Periphery: Views from the Edge, was published just earlier this year from George F. Thompson Publishing.
The publisher refers back to her earlier photographs— capturing the desert edge of Los Angeles, where the artist lives—as a study of "terraforming activities" indistinguishable from urbanization, "where nature is literally scraped away and terraced to accommodate the most recent version of the American Dream: more roads and highways, more residential and commercial developments, more golf courses and city services, more pressure on the natural systems that undergird the entire region."
Briefly, I'm reminded of something aerial photographer Michael Light said in a recent interview I recorded with him for another website I am connected to, called Venue. There, Light—referring specifically to Las Vegas—remarks that, from his experience, "the extraction industry and the inhabitation industry are two sides of the same coin. The terraforming that takes place to make a massive development on the outskirts of a city has the same order, and follows the same structure, as much of the terraforming done in the process of mining."
In other words, newly cleared and graded suburban tracts, immediately before the houses are built, look like nothing other than strip mines: gravel pits and rock fields spread across the landscape with hardly a human being in sight, only the spatial side-effects of their attempts at civilization.
But Brown's photos take us down out of the sky, however, to walk along these imperfect tangles of roads where the city disappears into sand, to show us how alien the environments here can really be.
It is "a place not intended for living," in the Nevada Museum of Art's perhaps overly dramatic words, as if describing an inferno beyond even the limits of animal survival.
In any case, be sure to stop by Laurie Brown's own webpage for more images—including her fantastic project "Recent Terrains"—and, if you're anywhere near Reno, consider paying her exhibition a visit before it closes.
All images courtesy of Laurie Brown / Nevada Museum of Art.