Northern India is dealing with some severe air pollution right now, and breathing the toxic air isn't the only concern. Driving may be equally dangerous, as evidenced by a massive pileup on an expressway on Wednesday.
Air in the region is so full of particulate matter that a thick fog has enveloped the northern plains, while cities like New Delhi are experiencing major smog. This reduces visibility drastically, making it hard to drive, as some unfortunate morning commuters recently discovered.
More than a dozen vehicles—with some local reports citing as many as 24—crashed into each other on both sides of the Yamuna Expressway, which runs from Noida, south of Delhi, down into Agra, home to the iconic Taj Mahal. One person has died, reports The Times of India. At least six others have been injured, but The Tribe reports as many as 22 injured.
The video above, which local outlets are reporting represents the accident in question (Earther has been unable to independently verify this), shows several people running out of their cars as they join the scene. Mostly adults escape from the steel death traps before a new car strikes, but some children also fled, with one crying and nearly running into the road.
G/O Media may get a commission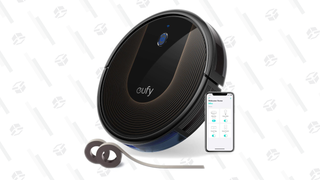 48% Off
Eufy BoostIQ RoboVac
Meanwhile, in Bathinda, which is even farther north, a truck speeding through the fog struck nine students, killing them all and injuring four others. Chief Minister of Punjab Captain Amarinder Singh lent his condolences on Twitter:
In case it isn't obvious, Northern India's got a serious problem on its hands. Schools remained closed Wednesday and will stay closed until Sunday due to the air pollution—which reached levels comparable to smoking 45 cigarettes a day—but employees are still expected at work.
This ain't new, though. Air quality sucks just about every year during this season as farmers begin burning their crops to prepare for their new harvest. And similar traffic accidents have happened before on the Yamuna Expressway: Four pile-ups destroyed 101 vehicles last year, injuring 75 people and killing two, according to The Times of India.
With no rain or winds in sight, this latest bout of particulate matter-infested air doesn't appear to be going anywhere.
That's dangerous for the nearly 20 million people who live in the capital territory of Delhi. Via Twitter, Chief Minister of Delhi Arvind Kejriwal has been discussing meeting with other state ministers to figure out a solution.
They better hurry up before more accidents happen—and more lives are lost.
This article has been updated to clarify that the novelty of the embedded video has not been independently verified at this time.