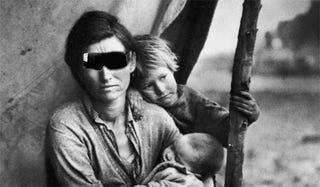 For this week's Photoshop Contest, I want you to take iconic, historic or famous photos and insert gadgets into them where they clearly don't belong.
You can find a lot of good source images here, but please don't use the more gory or NSFW ones. I won't include them in the gallery, so don't waste your time. Also, don't send in images you haven't edited. People have been doing that a lot lately and I'm not going to include non-Photoshopped entries.
Anyhow, send your best work to me at contests@gizmodo.com with "Famous Photos" in the subject. Name your files FirstnameLastname.jpg with the name you want used as credit, and save your files as JPGs, PNGs or GIFs. Send them in by next Tuesday morning and I'll post the top three winners and best of the rest in our Gallery of Champions.