Beyond Ynth: Let me explain.
In Beyond Ynth (and Beyond Ynth HD, for the iPad), you play as Kribl, a chipper little insect who solves puzzles in four brightly animated worlds. But don't let the cutesy look fool you-these puzzles are tough.

Maybe it's just because I'm used to playing iPhone games that only require half my attention while I'm trying to keep from bumping into people the subway, but Beyond Ynth's unique brand of puzzles-basically tipping big blocks from one side to the next to strategically gain access to platforms and openings-require not only some precise tapping but some serious planning, too.

It can get frustrating at times-like when you tip a block one time too many, closing off some crucial entry point and forcing you to replay the entire level-but the puzzles are so cleverly constructed that you never have that sinking feeling that you have outsmarted the developer.

FDG Entertainment, the group behind the game, claims that it was "one year in the making," and while the graphics are very nice and the game has a high level of polish (nice little narrative, pleasant music, etc.) it definitely seems like a good amount of that time went into making sure the levels were tough enough to truly be challenging.

It'd be nice if it was a universal app, but such is life-Beyond Ynth is $4 and Beyond Ynth HD is $6

GV Connect: Hot damn! Google Voice is back in the App Store. Here's what the developer sez:
Place calls using your Google Voice number rather than your mobile number - enter number directly, select a contact from your device's contacts, or call back any number in your history.
• Send and receive text messages (SMS) from your Google Voice number.
• Listen to voicemails and recorded conversations right on your device (allowing you to pause, rewind, or fast forward to any point within the message) - voicemails will also show the transcription of the message when available.
• Mark messages as starred, attach notes to conversations, block/unblock senders, or delete conversations.
• Easily search in your history by contact, message, or note.
• Messages are stored on your device for offline access.
• Composing notes and text messages can be done in landscape mode.
• Quickly change various Google Voice account settings (call forwarding, do-not-disturb, message notifications, …) directly from within the application.
• Automatic checking for new messages while the application is active.
• Direct access to your device's contacts without needing to synchronize them with Google
• All communication is done with the Google Voice website directly, no need to hand over your account information to a third-party.
• Full support for fast app switching in iOS4 and high-resolution graphics for retina displays.
• GV Connect stores your account password securely in your device's keychain for faster login when launching the application - communication is done via secure connections (SSL) to the Google Voice servers and no contact information (other than the contact's phone number which is required to place a call or send a message) is sent to Google. All operations are fully synchronized with your Google Voice account.
Three bones. But it's the principle of it all!
G/O Media may get a commission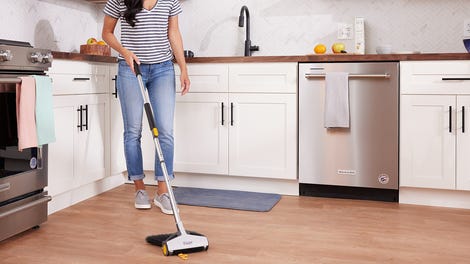 BOGO 50% Off
Flippr - BOGO 50% Off
Stop Motion Recorder: Let's hear from Sam, our stop motion auteur:
We know how good the iPhone 4's camera is, but what else can it do besides snap pics? With the StopMotion app, makes some pretty kickass amateur stop motion movies. My own attempt was sad, but the app is powerful.

StopMotion works by laying out a viewfinder grid, allowing you to manipulate, bit by bit, whatever objects you're working with, keeping them more or less aligned. The app can either snap frames automatically (at adjustable intervals), or capture with a touch instead. (The app's dev told us a clap-activated feature is in the works, which sounds fantastic).

After capturing each frame, you're left with a 'ghosted' image of the previous one overlaid, making it easy to see how much or how little you wish to deviate, for varying smoothness of animation. If you mess up a frame, don't worry-you'll have the option of rotating or deleting it altogether after you're doing capturing. Once you're satisfied, send the video on its way through an impressive number of export options: email, YouTube, Twitter, or just to your camera roll.

The animation below-a commentary on mortality, love, and what it truly means to grow up in this crazy modern world of ours-took me only a few pathetic minutes of kneeling on the Gizmodo office floor playing with action figures. But I'm sure with some practice, you could string together some pretty neat flicks.
One dolla.

Justin.tv: Justin.tv's free iPhone app was just updated, allowing users to broadcast live right from their iPhones. Use the front or back camera, broadcast over Wi-Fi or 3G, and share links on Twitter and Facebook. Because oversharing is caring.

Worldy Wings: Jason Chen will be your pilot for this app review:
Traditional shoot'em Ups, shmups, are awkward on the iPhone, because your left thumb covers a quarter of the screen and your right thumb covers another quarter-bad when you need to see every single bullet heading for your ship.

So instead of having to drive your ship with your hand, you drive it by tilting your phone in the direction you want. It's less precise, but you do get to see the entire screen, which is vital for shmups. (You also have the option of using screen press mode, which you'll actually end up doing anyway, for more precision in flying.)

Also gone is the outdated strategy of having to repeatedly press, or hold, a button to shoot. Worldy Wings just has you shooting the entire time, something most players do anyway. You just tap the screen when you want to set off a lightning attack.

With only two difficulty levels, three planes and 5 missions, the game is way too short. But it's $2, and 1942/Raiden fans will love it.

The Sims 3: Ambitions: The newest Sims expansion pack to be miniaturized for the iPhone, you can now pursue one of many careers—firefighter! teacher! etc—which involve all sorts of mini-games (and, as with any job, punctuality). This new expansion also lets you have babies! Which you have to take care of while you're succeeding at your fancy new job. I kinda want the Unambitions Sims iPhone game, where you wear sweatpants and watch Food Network. $5

Pocket Frogs: One of those insidious freemium games that tease you in until you get addicted and just start pouring your money in, but instead of, like, farms, it's, like, frogs! Basically you collect frogs, breed frogs, feed frogs, and trade your frogs with your friends to enhance your frog collection—but all of this is strangely addicting, with nice looking froggies and all sorts of options to beautify your habitat. Just try to resist the in-app purchases!

MasterChef Academy US: An impressively full-featured cooking app that's tied in with the TV show of the same name, MasterChef definitely hangs with the best of the food apps in terms of the detail of the recipes and the quality of the presentation. There's a ton of great video produced originally for the app and advice on how to prepare stuff from entres all the way down to spices. I'm bad at cooking; this seems helpful! $5