Well... the answer's maybe. As part of an ongoing roll-out teasing the special features in the Marvel Phase 2 box set, last night the company revealed a preview clip discussing the upcoming Doctor Strange movie. The kicker? The clip ends with what could just be concept art of the live-action Sorcerer Supreme.
The short preview video debuted on USA Today yesterday afternoon, and features several members of the team on Doctor Strange—Scott Derrickson, Kevin Feige, Steven Broussard and more—discussing the challenges of bringing the mystical side of the Marvel universe to life. You can check it out below:
The visuals largely stick to comic art, but the very end of the clip features a shot of Strange floating out in space, manipulating colorful magical energy. It certainly looks a little bit like Cummerbund Bandersnatch Benedict Cumberbatch facially, and the wild colors and imagery of the good Doctor floating in space certainly match up with what we saw behind closed doors at the D23 expo earlier this year.
However, the costume itself doesn't quite match up with what's been heard about the outfit before. Although the color scheme above is very much in line with the traditional colors worn by Doctor Strange in the comics, back in August Disney showed a reel of concept art at a conference, and attendees described the movie's outfit as having a much different color scheme:
G/O Media may get a commission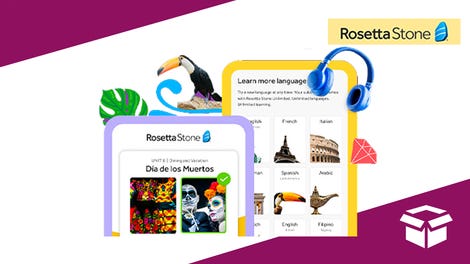 Extra 20% off
Rosetta Stone Lifetime Subscription - All Languages
That sounds like it could be potentially closer to the modern costume redesign Strange began wearing in 2012's Defenders comic, rather than the classic look seen above, or maybe both given there's a description of a cape.
So we'll leave this up to you to decide—this might be your first fleeting tease of how Benedict Cumberbatch will appear in Doctor Strange, or it might just be some fancy art. It presumably won't be much longer until we see more—with the movie currently filming, we're bound to get some better glimpses of the Sorcerer Supreme in action sooner rather than later.