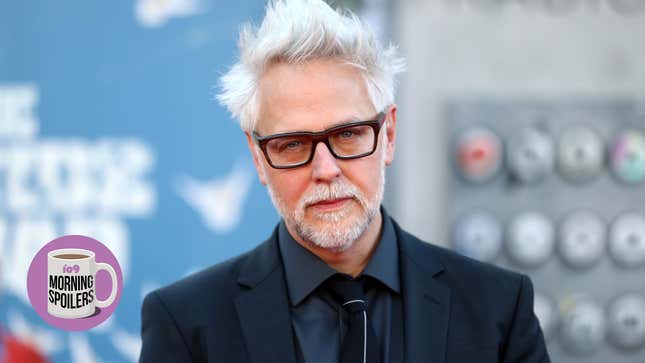 Sure, it's silly, but the fact that James Gunn's twitter continues to make headlines (and he responds to those headlines!) will never not be funny to me, especially when so many of those headlines are literally the length of the tweet. Anyway, Guardians 3 is going to be about 2.5 hours long and James Gunn is working hard on DC, pay no mind to the Marvel behind the curtain. Spoilers, tout suite!

Chukwudi Iwuji Talks Working on Guardians of the Galaxy 3 After Peacemaker
---
Highlander
During a recent interview with Deadline, John Wick director Chad Stahleski revealed he's having a hard time writing the Highlander reboot with Henry Cavill due to the complex mythology introduced over five films, two spinoffs, and seven seasons of the TV series.
I've worked on Highlander for years now, for Henry Cavill. Being retroactive is hard. What's different between Wick and that? With Wick, you weren't serving seven seasons of TV plus two spinoffs plus five films. If I were to do a remake of Highlander right now, you'd expect a lot of mythology in those first two hours; you couldn't explore stuff without it. Now, Highlander as a TV show now would be amazing. You'd have time to build it out, see all those flashbacks and the potential of it. It's trickier when you're trying to do something with that big of a mythology. But I agree, that would be one to take a really big stab at. Here, we just had the opportunity to really learn as we went on with Wick.
---
Attack the Block 2
Meanwhile, John Boyega told Empire Magazine (via /Film) that his character, Moses, will be "pretty darn bloody frickin' dope" when we see him again in Attack the Block 2.
It's a character that I really understand. In creating him when I was younger, I really understand where he's at now. It's the character that's stuck with me the longest. Every year I'd think, 'I wonder what Moses is doing now.' So I jump back in, and I think this version of Moses, if people can think about everything he's been through, is pretty darn bloody frickin' dope.
---
Guardians of the Galaxy Vol. 3
James Gunn stated "not a second is wasted" in Guardians of the Galaxy Vol. 3 on Twitter, but there's no reason to expect more films in the franchise.
---
Batman: The Doom That Came to Gotham
Batman meets 1920s versions of Mr. Freeze, Killer Croc, Ra's al Ghul, and Talia in two new clips from The Doom That Came to Gotham.
---
Daredevil: Born Again
Deadline reports Arty Froushan (Carnival Row) has joined the cast of Daredevil: Born Again as an undisclosed character believed to be Harry, "an associate of [Vincent] D'Onofrio's Wilson Fisk" in his campaign to run for mayor of New York City. The news comes shortly after a set photo of Froushan next to D'Onofrio leaked to Reddit.
---
Star Wars: The Acolyte
In conversation with Collider, Jodie Turner-Smith revealed her mysterious character in Star Wars: The Acolyte is not a Jedi.
I didn't get to use a lightsaber…but I did…not get to use a lightsaber. Because I am not a Jedi!
---
Secret Invasion
According to the series' new landing page, Secret Invasion premieres June 21, 2023 on Disney+.
---
Crystal Lake
Adrienne King (Alice Hardy from the original Friday the 13th) shared two behind-the-scenes photos from the upcoming Crystal Lake TV series, with the latter tagged "coming 2024."
---
Ultraman Final
Netflix also revealed the final season of its Ultraman series premieres this May 11.
---
Pokemon Horizons
We also have stills of Sprigatito, Fuecoco, and Quaxly opposite series' stars Liko and Roy in Pokemon Horizons, the new series premiering April 14 in Japan.
---
Quantum Leap
Finally, Ben must save Addison in the trailer for "Judgement Day," the first season finale of the new Quantum Leap.
---