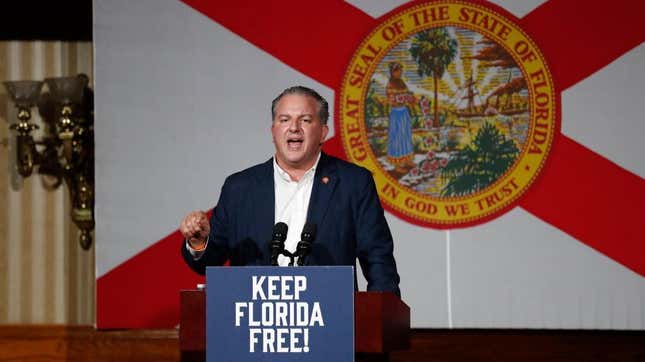 Jimmy Patronis, Florida's chief financial officer, is threatening to investigate insurance companies that leave the state. Patronis blames "wokeness" for the moves, not rampant lawsuits or climate change.
Meet Microsoft's New Surface Laptops
Patronis' ire comes after Farmers Insurance announced that it would not renew certain existing policies in Florida earlier this month. This move will affect auto insurance, home insurance, and policies that cover both. The decision was made by leadership in order to better manage risk exposure, especially as the state has seen increased risk from climate change-related disasters, CNN reported. This affected about 100,000 policyholders in the state, which is about a third of the insurer's business in Florida. The company explained that this was done to "manage risk exposure," USA Today reported.
When this happened, Patronis threatened to investigate and fine Farmers Insurance. He also called the company "the Bud Light of insurance" in a press release criticizing the company's strategy shift in Florida. The beer reference is often a jab at TikTok influencer Dylan Mulvaney, a trans woman who was featured in a sponsored promotion for the company. People on the right were enraged and began to call the beer brand "woke" for daring not to be transphobic.
Patronis was featured on CNBC's Squawk Box this week to discuss his comments on Farmers Insurance. During the segment, he said that Farmers Insurance was too focused on "ESG", which stands for "environmental, social, and corporate governance." It's a practice that encourages investments using social and environmental principles, but to some right-leaning politicians ESGs in business are apparently part of "Satan's plan."
"If they would just leave ESG and put it away, and focus on the bottom line, they may not have made this decision to leave the state of Florida with the tail between their legs," Patronis said during the CNBC interview.
He said that even though the segment's introduction explained that insurers have not made profits from insurance underwriting in Florida since 2016. "[Leaving] is the bottom line," host Andrew Ross Sorkin explained. "That doesn't have anything to do with 'being woke' or being 'Bud Light'."
Patronis has also recently blamed President Joe Biden for the inflation that has wrecked the state's insurance market, The Street reported. He must have forgotten that rapid inflation began to take hold in mid-2020 (when Trump was still in office), according to the U.S. Bureau of Labor Statistics.
Blaming Farmers Insurance's recent changes ignores that Florida is extremely vulnerable to climate change-related disasters. This has made it more expensive for insurers to reimburse customers for frequent storm damage. And the state's market has been on shaky legs for years. Insurance there is more expensive than a lot of the U.S.—the average premium is over $4,000. Compare that to the national average of about $1,500, E&E News reported. Several insurance companies have shut down since 2020, shrinking the options available to customers.
But the insurance market there is also a man-made disaster. Reinsurance rates in Florida are higher compared to other disaster-prone regions of the country due to lawsuits. In the last few years, more than 100,000 lawsuits have been filed each year against insurance companies operating in Florida, Mark Friedlander of the trade industry group Insurance Information Institute, told the New York Times. This has caused major financial losses and has forced companies to shut down.
Florida isn't the only state struggling with rising costs and climate change. Just this May, State Farm announced that it would stop selling insurance in California. The company cited inflation, rising construction costs, and "rapidly growing catastrophe exposure."
Want more climate and environment stories? Check out Earther's guides to decarbonizing your home, divesting from fossil fuels, packing a disaster go bag, and overcoming climate dread. And don't miss our coverage of the latest IPCC climate report, the future of carbon dioxide removal, and the un-greenwashed facts on bioplastics and plastic recycling.