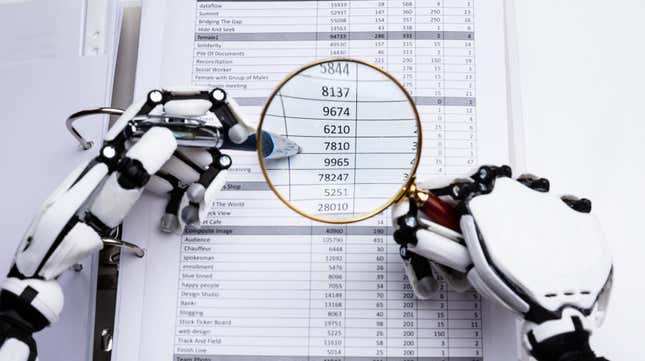 Companies are beginning to dive into the AI workforce headfirst—at least that's what the data are saying. A new report says that AI is responsible for almost 4,000 job cuts last month alone.

Maybe AI-Written Scripts are a Bad Idea?
The report comes from Challenger, Gray, and Christmas, Inc., an outplacement firm headquartered in Chicago. The company's May report says that U.S.-based companies announced 80,089 job cuts last month, and 3,900 of those are directly related to artificial intelligence. May's job cuts are a 20% increase over April's, which saw 66,995 positions axed according to the report. With talks of a looming recession, it's possible that companies really are beginning to pare down the human employees in their workforce in favor of a bucket of AI bolts in order to save some cash and impress shareholders.
"Consumer confidence is down to a six-month low and job openings are flattening. Companies appear to be putting the brakes on hiring in anticipation of a slowdown," said Challenger, Gray & Christmas, Inc. senior vice president Andrew Challenger in the report.
IBM CEO Arvind Krishna said last month that the company is planning to pause or slow hiring in the coming years for roles in which AI could replace humans. The slowdown or freeze in hiring would effect back-office positions and departments such as HR—these non-customer facing positions makeup around 26,000 positions in IBM's workforce. Tim Davidson, IBM communications officer, told Gizmodo last month that the company is "being deliberate and thoughtful in our hiring with a focus on revenue-generating roles."
Similarly, last month, The National Eating Disorder Association shut down it's telephone helpline in favor of an AI chatbot named Tessa, firing its small staff of humans. Prior to the switch, staff successfully unionized after feeling understaffed and overworked while not receiving the support they needed while working with an at-risk population. While the swap to AI was a blow to the human workers, it wasn't smooth sailing, and NEDA pulled the Tessa chatbot last week after the nonprofit said on Instagram that it may have given harmful information to those seeking comfort.
What organizations like IBM and NEDA are purposefully ignoring is that AI could serve a supplement to labor by making menial tasks easier or even non-existent, thereby optimizing the performance of both that artificial intelligence and the human worker. New research from Stanford University and Massachusetts Institute of Technology has found that 14% of employees that used ChatGPT in their workflow saw an increase in productivity—with the least experienced and least skilled workers completing tasks 35% faster.
Want to know more about AI, chatbots, and the future of machine learning? Check out our full coverage of artificial intelligence, or browse our guides to The Best Free AI Art Generators, The Best ChatGPT Alternatives, and Everything We Know About OpenAI's ChatGPT.