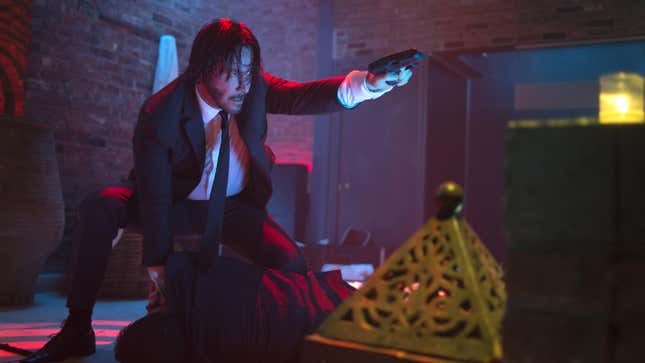 John Wick answers the door to his home, lights and sirens clearly visible outside. Wick isn't bothered, half-covered behind the door, a gun clutched in his hand, held at the small of his back. A cop stands a respectful distance away from the door, turns his head, looks past Wick and sees bodies–not a body, multiple bodies–in the front hallway. He leans back.

"Working again, John?"
"Something like that, Jimmy."
The cop leaves shortly after.
This moment was when I knew that this film wasn't just good, it was great. It was smart. It used dialogue like a weapon, it turned charged situations into worldbuilding opportunities, and most of all, it didn't waste time establishing anything; it put you in the middle of the action without apology or compromise, offering little in the way of a guideposts but expecting—trusting—the audience to keep up. Besides the very brief (literally two minutes? Maybe three?) dead wife character, there is only one point, early in the film, where some establishing information is laid out; when Viggo tells his son Iosef exactly who he has fucked with. I will allow it, because giving Keanu Reeves the nickname "Baba Yaga" is incredibly good for reasons I cannot fully articulate.
Confession time: I watched John Wick (2014) for the first time this week. I hadn't been avoiding it for any particular reason, I just hadn't gotten around to putting it on. Despite my overwhelming love for Keanu Reeves, the John Wick series had remained a growing blind spot as the Keanussaince continued. And I'm so, so glad I'm catching up while John Wick 4 is in theaters. John Wick is, without a doubt, one of my new favorite films precisely because of the economy of its storytelling, the efficiency of its brutality, and its refusal to tell anything but the story that is happening immediately on screen.
What John Wick gets right, like, really right, can be found in its worldbuilding. In refusing to answer any questions unless there is a narrative reason to do so, John Wick allows the emotional beats of the story to shine, especially because those emotional beats are so few and far between. There are no unnecessary flashbacks or explanations, there are no specifics given. Just warnings and hints of a larger backstory. It is restrained, which might be an odd thing to say about a film that feels gratuitously violent, but it's true. The setting, aesthetic, energy, performance: all this is exaggerated, but the story itself, the heart of the film, is not. It's a revenge story set in a world that is both like and unlike our own, and that dissonance is where John Wick makes itself a masterpiece.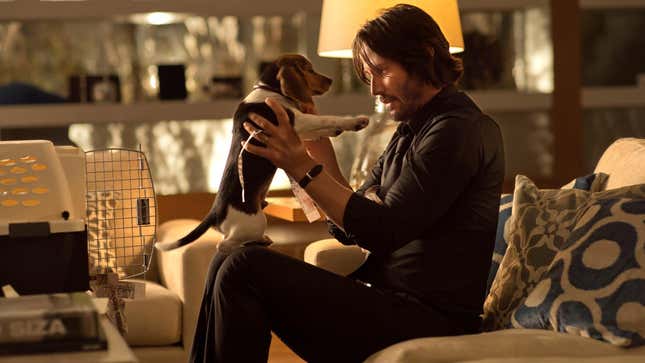 One of the most extant examples of this is the Continental. While there seems to be an exterior facade of serviceability, it quickly becomes clear that this is a very special waypoint within the John Wick universe. There are unexplained coins which are clearly exchanged as a kind of tender outside of legal means. Their true value is never outlined in full, but we don't need to know that—all we need to know is that they are valuable, and, to a certain class of people in this world, they are worth killing for. The rules of the Continental are assumed: this is neutral territory, a place where killers get their information, a gladiatorial arena where respect is more important than reputation, and a resting place between jobs. None of this is said, but it is plainly and deliberately laid out.
The violence in John Wick is likewise deliberate. It is unromantic, economical, and (for the most part) without flair. There is very little gore, the blood splatters are contained, and the deaths are not extended, dramatic, overblown moments where actors ham it up. People simply die. It's this kind of restraint that helps the worldbuilding focus on Wick himself, on the thorough examination of misplaced grief, on the stylistic delivery of Reeves' acting, and his wonderful physicality as he moves through the action sequences. In creating a rhythm to death, the film places its emphasis on the creation of the world that is built up in between those moments, on the lives that are centered, and how those lives are ended.
John Wick is, ultimately, a fantastic film because it is restrained. Because it places emphasis not on a gun's flashing muzzle, but the ache of pain. Guns might have power, but the most powerful part of the film is not who has a gun, but who has enough hurt in them to pull the trigger. It is a story about a man who has lost everything and refuses to lose anything else, even as he becomes his worst fears realized over and over again.
This might seem like a lot to put on a mid-budget action film, but the way that John Wick has laid the groundwork for excellence in its first film is incredibly good. The world comes together in subtle moments and lines delivered without buildup, held together by tendons of action. It does not show all its cards, it does not play coy with information, it does not turn ignorance onto the audience like a cudgel. It simply moves. John Wick is a film that understands itself, and asks the audience to follow along until we realize that world-building only matters when it allows you to show the world how much pain you still have left inside of you.
John Wick: Chapter 4 is now in theaters.
---
Want more io9 news? Check out when to expect the latest Marvel, Star Wars, and Star Trek releases, what's next for the DC Universe on film and TV, and everything you need to know about the future of Doctor Who.