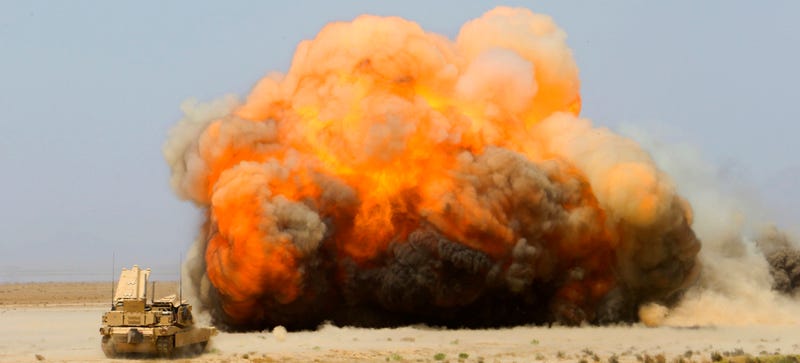 Ka-boom. Clearing fields of mines with rockets is probably one of the most spectacular military duties you can be assigned with. In this photo, taken two weeks ago near Camp Leatherneck in Helmand province, Afghanistan, you can see an M1 Assault Breacher Vehicle–and the huge ball of fire that its MICLIC rockets caused when clearing mines just ahead.
Original caption:
Marines with 2d Combat Engineers Battalion (2d CEB), utilize the M1 Assault Breacher Vehicle (AVB) to employ M58 Mine Clearing Line Charges (MICLIC) rockets attached with Composition C (C-4) explosive, in order to detonate emplaced mines prematurely near Camp Leatherneck, Helmand province, Afghanistan, April 29, 2014. AVB's also known as "The Shredder", are 72-ton, 40 foot tracked combat vehicle derived from the M1 Abrams model specifically designed to clear pathways for troops and other vehicles through minefields, roadside bombs and Improvised Explosive Devices.
Photo credit: Staff Sgt. Jonathan T. Spencer/U.S. Marine Corps, via DoD.