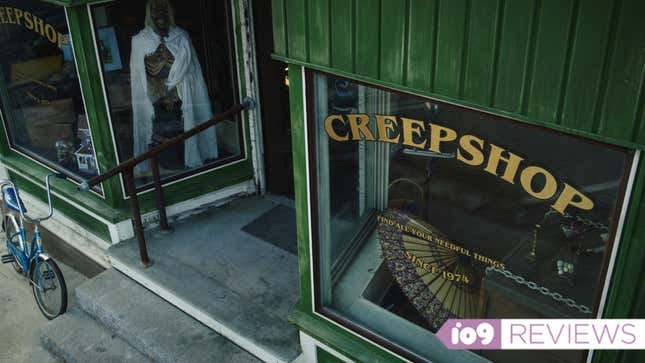 Stephen King is one of the most adapted authors of all time, and—unlike Shakespeare, Agatha Christie, and Ian Fleming—he's still alive and prolifically publishing. New documentary King on Screen celebrates the phenomenon of King-inspired movies and TV series, mostly through interviews with directors who've helmed them.
With nearly 80 titles (and counting) to sift through, King on Screen director Daphné Baiwir has her work cut out for her, and the documentary could have benefited from a more focused approach. It opens like a narrative—a Maine road trip starring Baiwir that's packed with King-ly Easter eggs—that goes on for over seven minutes, long enough to make the viewer briefly wonder if they've pressed play on the wrong movie. Eventually, the frame story gives way to a more traditional documentary format of talking heads, including several directors who've made more than one King-inspired work, and clips to illustrate its discussion of the themes and elements that make King such an appealing storyteller. He's fond of small-town settings and folksy characters—he's particularly good at creating authentic kid characters—and he's extremely fond of isolating those characters and trapping them in scary situations. His works aren't always horror or even supernatural, but they do tend to investigate the darkness that lurks within the human heart.
Most of King on Screen seems to be propelled by who Baiwir had the most access to—further shaped by who told the most detailed stories and which projects had the most B-roll available to illustrate them. For instance, there's a lot of Frank Darabont, director of The Shawshank Redemption, The Green Mile, and The Mist, and at times the doc drifts from being about King's work to being more about the making of those movies. Some of this behind-the-scenes stuff is fun—like special effects legend Greg Nicotero's breakdown of the infamous Misery "hobbling" scene—but other times, it drags and feels like too much of a tangent, as with Darabont's lengthly explanation of how The Green Mile star Tom Hanks is a "generous" actor.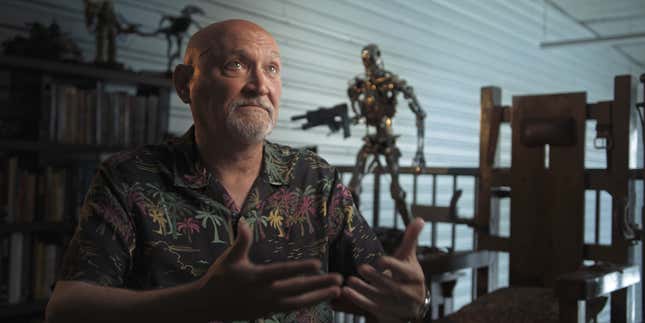 King on Screen is more successful when it shifts away from making-of anecdotes and into segments that better address King's place in pop culture as an influential author whose popular books achieved exponential exposure once Hollywood realized how inherently cinematic they were. As it must, the doc digs into King's well-known dislike of Stanley Kubrick's The Shining because of its tone and altered ending, leading to Mick Garris' explicitly King-sanctioned TV miniseries nearly 20 years later, but otherwise doesn't spend much time examining which works have been adapted more than once. (Other instances of King stories being changed for the screen, like Darabont's ending for The Mist, apparently all met with the author's approval, or at least we're led to believe that.)
There's an interesting segment featuring Josh Boone—a lifelong King fan, as many interviewed here are—who co-created the 2020 version of The Stand, an oddly prophetic work given its release during the height of the pandemic. Boone's interview is one of few moments King on Screen, a movie filled with white-guy filmmakers talking about a white-guy author, broaches the subject of race, as Boone explains the characters in The Stand were deliberately rewritten to bring much-needed diversity to King's story. In this arena, as well as the discussion of King's female characters, you wish there'd been a bit more diversity in the commentary as well; perhaps bringing in film scholars or cultural critics—King is not an obscure topic; there's a lot of folks who could've contributed—would have been one way to round things out a bit more.
While Mike Flanagan, a leading voice in contemporary horror whose King-adjacent projects include The Shining sequel Doctor Sleep, does get a bit of screen time, you wish King on Screen had snagged Andy and Barbara Muschietti, the directing-producing team behind the massively successful It and It Chapter Two, voices that would have helped further explore the ways in which King is perpetually a box-office draw—seemingly more popular than ever nearly 50 years after the adaptation of Carrie, his first published novel, first hit screens. To that end, it's an odd choice to shove some of King on Screen's most salient points, remarking on how streaming has presented yet another way for King's work to find new audiences, into the footage that runs alongside the end credits. There's no mention of upcoming series Welcome to Derry or recent entry Castle Rock, both of which build out the world of King, and would seem to illustrate how King has crafted a literary universe so vivid its setting alone provides fertile turf for adaptation.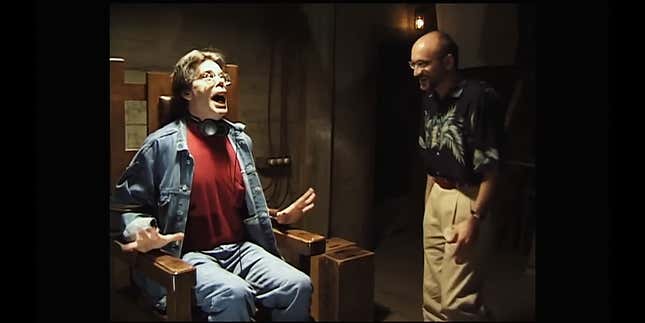 Though King's own voice isn't part of the documentary—we do see him in talk-show footage and some behind-the-scenes clips—it would have been amusing if King on Screen had done a more cohesive montage of his acting appearances in his works, since he's a reliably fascinating performer. Other interviews in King on Screen include Tom Holland (The Langoliers), Vincenzo Natali (In the Tall Grass), Mark L. Lester (Firestarter), Taylor Hackford (Dolores Claiborne), and Kevin Kölsch and Dennis Widmyer (the 2019 version of Pet Sematary); if the documentary doesn't give you much new insight into King's popularity, at the very least it'll give you the urge to revisit your favorite films—or maybe even check out some new ones—on his ever-growing list of adaptations.
King on Screen hits theaters August 11; it arrives On Demand and on Blu-ray September 8.
---
Want more io9 news? Check out when to expect the latest Marvel, Star Wars, and Star Trek releases, what's next for the DC Universe on film and TV, and everything you need to know about the future of Doctor Who.