Just before I'm ready to go to bed, Kodak drops news we hinted at yesterday: Multifunction printers pumping a revolutionary ink through their nozzles that'll create prints with an archival life of 100 years, versus standard inkjet photos that go the way of toilet paper after 15. And the ink costs half the price. Half?! We should buy Kodak's new printers simply because they're not trying to fuck us on the cartridge sales.
In fact, all of your 4x6-inch prints will be a lot cheaper with the new inks averaging 10 cents per print. Meanwhile, letter-size black and whites will run about 3 cents per print. The inks themselves will be priced at $9.99 for a cartridge of black ink and $14.99 for a five-color cartridge. Kodak claims this is 50% cheaper than what you'd spend on say an HP, Epson, or Canon ink refill. So we checked out their prices and in all instances, the Kodak ink saves you a pretty decent amount of cash. Whether the quality is as good—that we'll have to see for ourselves, but analysts have said good things so far.
G/O Media may get a commission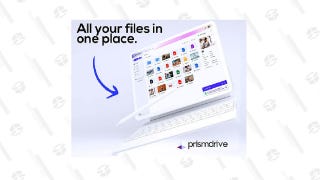 Save 97%
Prism Drive Secure Cloud Storage: Lifetime Subscription
Oh, these printers are fast as hell, too. They'll shoot out your photos at the rate of 22 pages per minute.
PC World has product comparisons, but I like Business Week's writeup of Antonio Perez losing a power play to Carly Fiorina to run printer giant HP many years ago, landing at the distraught Kodak to find the lab geeks had invented the 100-year ink, considered the holy grail of the industry.
The new printers are detailed in this next post.
Kodak Launches a Printer Offensive [BusinessWeek]
Kodak Announces New Multifunction Inkjet Printers [PC World]