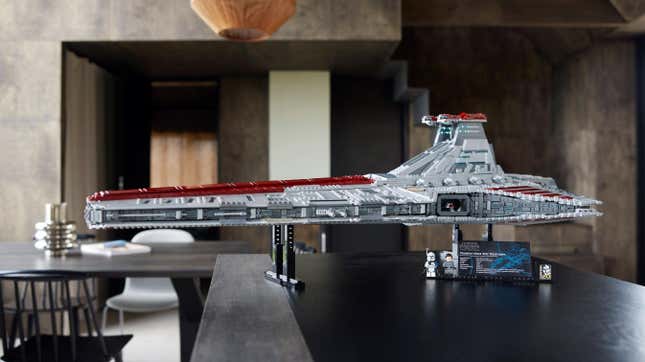 Lego's Star Wars Ultimate Collector Series has played host to massive recreations of the galaxy far, far away's vehicles and ships, big and small, for years—and now it's heading back to the Clone Wars for its latest, and one of its biggest sets yet.

Today Lego officially confirmed that the next UCS model will drop next month, and takes us back to the prequel trilogy in the form of the Republic Venator-Class Attack Cruiser—the predecessor to the Imperial Star Destroyer.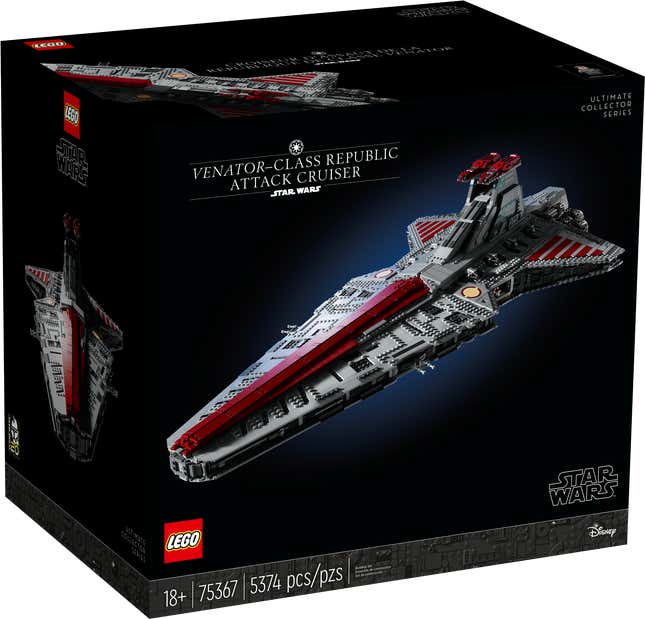 Measuring in at just over 43" inches long, and made of a whopping 5,374 pieces, the UCS Venator comes with a display stand and the UCS-stalwart placard giving a technical breakdown of the Grand Army of the Republic's flagship cruiser line, as well as a place to hold the included the Clone Wars 20th Anniversary emblem as well as two minifigures that come with the set—representing the more recent 3DCG animated series The Clone Wars rather than its 2D predecessor—Clone Captain Rex, and Admiral Yularen.
While the Venator isn't Lego playset in so much that you can't, like previous smaller Lego takes on the ship, open it up and recreate scenes inside, the set does evoke its massive scale with a small brick-built replica of a Republic Gunship that you can place in its open port hangar bay. Should you have the space and funds to begin your own Republic Navy, the UCS Venator will be available from October 1st for Lego Insider users, and from October 4 more widely, for a hefty $650 price tag. Click through to see some more pictures!