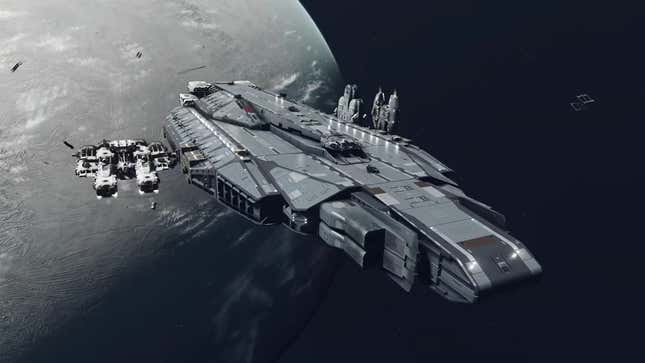 Starfield is the hotly-anticipated, recently-released video game from Bethesda Game Studios, the company behind the likes of other open-world titles like Fallout 4 and Skyrim. Todd Howard's latest behemoth is a space exploration game in which you play as a planetary miner who stumbles upon an alien artifact, launching you into a quest spanning planets and solar systems to uncover the rest of the extraterrestrial technology. In order to hop from star system to star system, Starfield comes equipped with a spaceship builder that's got all the bells and whistles to make the ship of your dreams.
The game was officially released earlier this week and gamers are already doing what gamers do best: testing its limits. The shipbuilder is an incredibly in-depth service that allows you to customize nearly every module of your ship, from what laser cannons you'll disable the Crimson Fleet pirates with to what color you want your cockpit to be. It's so immersive, in fact, that it can be a little overwhelming to novice gamers (like myself).
Related: Starfield's Legendary Mantis Ship Is Well Worth The Trouble
Players can get their hands on a ship after beginning the main quest and joining Constellation, a group that is leading the search for the missing pieces of the mysterious alien artifact. Barrett, a member of Constellation, will hook you up with a ship to meet the rest of the team in the city of New Atlantic. Here, you can speak to a ship technician on the landing pad and enter the ship-building interface. The credits your character earns from looting and working are needed to purchase modules or even entire ships for your fleet.
Starfield players across the internet have been showing off their ship designs, including references to other video games and sci-fi movies, recreations of characters from animated movies, and designs modeled after inanimate objects. Here are 13(-ish) of the best builds we've seen.