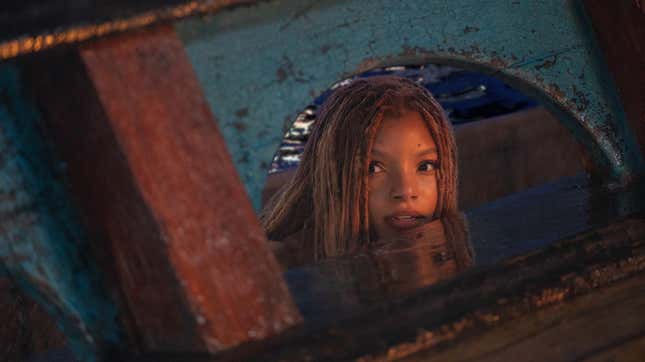 Disney's The Little Mermaid just posted the biggest Disney+ debut of the year. According to the company, the film got "16 million views in its first five days" on the platform, making it "the most viewed Disney movie premiere on Disney+ since Hocus Pocus 2," which came out just over a year ago.
Little Mermaid Director Rob Marshall on Handling the Music of a Disney Legend | io9 Interview
That's impressive considering, based on the dates, it means it beat films like Black Panther: Wakanda Forever, Disenchanted, Ant-Man and the Wasp: Quantumania, and even the company's biggest box office hit, Guardians of the Galaxy Vol. 3. It's so impressive that Disney not only sent out a press release but posted it on its official corporate website.
But something feels off here, doesn't it? Not about the movie but the fact we're talking about these numbers at all. Isn't one of the biggest issues in the ongoing writers and actors strikes that studios and streamers don't want to report numbers? And yet, Disney is out here reporting numbers publically. Numbers that, it seems, the company is very proud and excited about. Does that mean when something debuts and the numbers aren't reported, it did poorly? Are the film's writers and actors getting extra residuals for these record-setting streaming views?
Adding fuel to the flame is the definition of what, specifically, a view is. According to Disney, it's "total stream time divided by runtime." Which makes sense. It's a nice average. But, again, it's hinting at the sheer mountains of data the company is combing through internally. Data that surely could be shared privately with its creators, but is being withheld and fought for.
You begin to see the issue here. In the middle of a strike where transparency over streaming numbers is such a major issue, to make it clear these numbers are not just readily and easily accessible, but worth applauding when it benefits you, seems a little out of touch.
You can be the 16 million and first person to watch The Little Mermaid right here.
---
Want more io9 news? Check out when to expect the latest Marvel, Star Wars, and Star Trek releases, what's next for the DC Universe on film and TV, and everything you need to know about the future of Doctor Who.