The Superman of Injustice: Gods Among Us is meant to be a misguided tyrannical dictator driven mad by the death of Lois Lane, but Bandai's take on him just looks like he's about to win first prize in the Metropolis' ugliest gurn contest. Thank god for alternate heads, eh?
Bandai's latest DC figuarts is the fourth entry in the spinoff line based on the fighting game behind (of course) Batman, The Joker and Harley Quinn, and like those past toys does a grand job of nailing the game's aesthetic. The mix between quasi-realism and comic-book proportions leads to a great figure, and when you've got a head on him where he looks like he's about to let off the biggest superfart on the planet, Supes is a pretty smashing looking figure.
I particularly like that the cape is articulated just enough so you can raise his arms properly, yet it's hidden enough that looking at the figure from most angles you can't see it. Huzzah! Aside from three different heads - Neutral, Heat Vision-ing and Angry - Superman also comes with alternate hands to pose him normally or with fists ready to fight (he is based on a fighting game version of himself, so he should really be all fists all the time!). Just make sure you don't keep that Heat Vision head on for too long, otherwise he'll start looking a bit creepy on your shelf.
Figuarts Superman will be out in August for $55. You can check out a few more pictures of the figure at the link below.
G/O Media may get a commission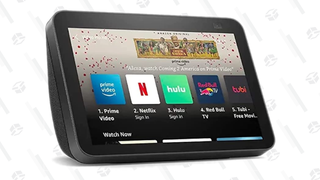 ---
You're reading Toybox, io9's blog for all things pop culture. From merchandise to awesome fan creations, TV recaps and critical commentary on the hot topics of the day, you can find it all here!