ShackWatch IV: Summer Daze

By Brendan I. Koerner
It's been way too long since Low End Theory's last visit to the cluttered aisles of Radio Shack. The last time I checked in with America's favorite peddler of remote-control cars and digital thermometers, Christmas '05 was right around the corner. Now the trees have filled out in my local park, the corner bodega is stocking up on BBQ-appropriate beers, and the Marshall's up on 125th Street is hiking up the prices on short sets. Yes, summer is on tap, and I realize that I've been quite remiss in my promised ShackWatch duties. How you all must be pining away for a report on what's going down in the realm of gold-plated connectors and Polaroid DVD players.
Unless you're a member of the "Kill Your TV" demographic—or you just DVR your way past the commercials nowadays—you already know at least part of the answer to that question. Buoyed by some clever ads featuring a red chair, gearhead supplicants, and even Bob Knight, the Shack's trying to go a wee bit upscale—or, at the very least, trying to move past the days of yore, during which a sizeable chunk of their revenue seemed to come from selling crappy private-label batteries. Heck, they're even going strong with this whole Cingular angle, positioning the Shack as a tonier wireless source than your local Cell Hut.
But as numerous philosophers, self-help gurus, and mope rockers have pointed out over the years, you can't escape who you are. And no matter how hard it tries, the Shack'll always have a low-end soul. To prove this point, I assigned myself a little Radio Shack homework for this week's column: If I somehow came across an unexpected $50 (hello, Hot Spicy Cash!), how splendidly could I kit myself out for summer at the local Shack? You'll doubtless be pretty unsurprised to learn that the answer is, "Pretty splendidly." After the jump, a hodgepodge of cheapo gadgets that could make this the best summer ever.
G/O Media may get a commission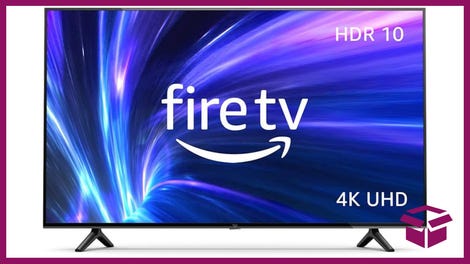 42% Off
Amazon Fire TV 50" 4K Smart TV
Let's start with the one halfway splurge: the Discovery Junior Metal Detector for a fairly reasonable $39.97. Yes, it's sized for the pre-teen set, which means lots of hunching over if you're of normal adult size. But the next step up on the pricing ladder clocks in at near $100, which is well outside the range of low-enders like ourselves. If you're not afraid of attracting too many chuckles at the beach or park, you can just strap a broom handle onto the end. The joke will be on the guffawing spectators when you stumble across a footlocker stuffed with doubloons. (Also, wasn't there a Baywatch episode in which a detector-sporting geek hooks up with Yasmine Bleeth, back before her sad decline? Or did I dream that?)
Okay, so we've got just $10.03 left in our hypothetical kitty. No worries—this is the Shack we're talking about, after all. How about some tunes? Can't go 'round beachcombing without my Hot 97. That's not a worry as long as I've got the Shack's ovoid, lime-green, $1.97 FM Stereo with concealed earbuds. Serious props to whatever Chinese contract manufacturer made this, as it displays a real sense of 1950's style—I can tell that the anonymous designer must be a fan of cars with big fins. It even comes with its own cell battery, which should last you 'til Labor Day.
One cherished ritual of being outdoors during the summer is complaining about the heat; it's also a great way to strike up a conversation with curvaceous, eligible strangers. ("Is it hot out here, or is it just you?") What better way to flesh out the dialogue regarding the oppressive heat than to have a constant fix on the precise temperature? That's what the Shack's Keychain Thermometer is all about. But wait, there's more—for the low, low price of $2.97, you also get a clock, a calendar, and an analogue compass. The one drawback is the thermometer's lack of a Celsius scale, thereby preventing you from ratcheting up the eruditeness of your climactic conversation to the hallowed Phase Two.
Sweating bullets and tuckered out from a day of scanning the sand, sometimes it's nice just to sit against a tree and get in some You time. But to be alone with your thoughts? Nah, that's just too punishing. Better to zone out with some handheld gaming, courtesy of the $2.97 Sportz Clipz Football. True, the monochromatic graphics don't seem too promising, but fear not—the hype sheet assures all potential customers that the "game comes alive with intense sound effects." It's also got rubberized controls for maximum pressability, so you know it's gotta be a winner.
By my count, then, all four gadgets together bring the tally to a not-so-whopping $47.88. That leaves enough to buy a 32-ouncer of Budweiser ($2) from my corner bodega—or, if I want to be real grimy about my summer fun, a six-pack of Country Club. (Note: Latter brew not recommended for anyone who values both their liver and their sanity.) And with that extra twelve cents? That's going straight into my yet-to-be-conceived child's college fund. You're starting out the game a step ahead, little Sarpedon (or Rook if it's a girl). Daddy loves you.
Disagree with how I spent my $50 at the Shack? Did I miss some great deal, thereby shortchanging myself in the summer-fun department? Please pass along your ideas for bargain-basement Shack products that can enrich the next few months of outdoor merriment. For example, did I do wrong by skipping over the $2.99 Precision Oiler? Perhaps, but it'll take a lot of convincing to make me believe it.
Brendan I. Koerner is a contributing editor at Wired and a columnist for both The New York Times and Slate. His Low End Theory column appears every Thursday on Gizmodo.