Part II, the final installment, in which Will Leitch finds log-rolling quite interesting.
Among the Believers with Will Leitch
I keep walking and come up to The Lenox, a hotel of much higher quality than my Howard Johnson s. Signs are set up throughout the lobby with the convention s schedule. Success! I stroll past the exercise center definitely nobody I d want to talk to in there and saddle up to the hotel bar, a sleek light blue cauldron of skinny people. I order a vodka tonic and sit next to a guy rifling through some papers. Being an investigative reporter, I sneak a peek at his work. It appears to be a legal brief, and the guy is clean shaven. I m barking up the wrong tree. I gulp down my drink, look around, see nobody wearing a Professor Frink shirt and leave.
I stop by Lir, an Irish pub, and order another vodka tonic. A middle-aged couple is next to me; he s drinking a domestic draft beer, she appears to be nibbling at a Diet Coke. Trying to be subtle, I take my convention badge out of my pocket and set it on the bar. The woman sees it, and her face lights up.
Are you with the computer convention? she asks me.
I am, yes, I m covering it, I m a reporter, I say, reaching for my notebook excitedly.
G/O Media may get a commission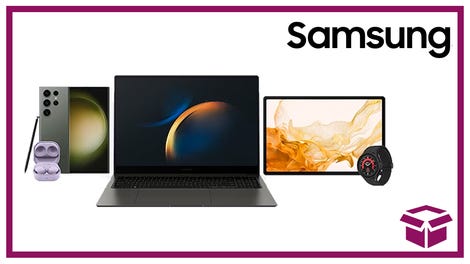 24 hour deals
Discover Samsung - Daily Deal
Oh, that s great, she says. My husband and I are on vacation, and we were really curious about that convention. Her husband glances over at us, bored. The woman shakes my hand; her name is Barbara. I really want to get a Mac computer, but Tom says they re too expensive. Did you see any good deals? I just think they look so neat!
I put my notebook back down and sheathe my pen. We make small talk for a bit, and then I point out the Great Outdoor Games on the television in front of us. Two women are log-rolling; it s more interesting than I would have thought. There s real strategy involved.
I finish my drink and leave.
Desperate, I notice a man on the street standing in front of a Lord & Taylor display window, staring at a mannequin that is looking away, completely nude save for a shawl draped over her shoulders. At this point in the evening, having still found no partying conventioneers, I m not beneath some racial profiling: He s Asian, not particularly fit and has unruly hair, and not in a stylish way. Worth a shot.
I stop next to him. Hey, are you with the convention? I ask.
It occurs to me, as his face shifts from confusion to fear, that the words Are you with the convention? when spoken to someone who is not, in fact, with the convention, sound similar to what What s the frequency, Kenneth? must have sounded like to Dan Rather right before he started getting pummeled.
He says, Excuse me? I look down, apologize and drift away. He goes back to his window and stares in.
Discouraged and frustrated, I decide that even if I m apparently terrible at finding conventioneers to drink with, well, dammit, I at least know how to have fun! To the Foggy Goggle! I hop in and grab another vodka tonic, served to be in a plastic cup with an orange wedge. The Foggy Goggle is nearly empty and has the depressing pallor of a place built to host fun but currently containing none.
I sip my drink and watch some more Great Outdoor Games. Now little dogs are jumping through hoops and running some sort of obstacle course. I notice three men at the table next to mine equally enthralled by the little dogs. It s getting late; now or never.
Hey, guys, you with the convention? I ask.
They are. Their names are Michael, Michael and Christopher. Michael II is the boss, and he looks it: Older, distinguished, polished. Too polished. I ask him what they do.
We re with [name of company redacted by their request], he says. We re financial planners. We re here to prospect new clients. This seems like a good place to go. Mac buyers tend to have lots of disposable income.
I sit there, sipping my vodka tonic in my plastic cup, wondering if this counts as a real conventioneer. Oh, close enough.
So, what kind of Macs do you guys use? I say, hoping they ll spit some technical jargon back at me.
Michael II grins. Oh, we don t have Macs in our office, he says. They re too expensive.
I nod, sip my drink and watch the little dogs scamper.