BOSTON—Two men are standing in front of the Hynes Convention Center with 16-inch flat screen televisions hanging about a foot over their heads. This is a curious sight.
One of them, buckling under the weight, stumbles over to me and hands me a coaster-sized piece of paper, with a picture of the RIMAGE 360i printer on it. His name is Samir.
Sir, would you like to hear about our printer? he says. I wouldn t, but I take the coaster anyway and ask him how it came about that a flat screen television ended up attached to his backpack and hanging over his head.
He explains that he works for a company called Street Factory Media, which does underground marketing for major conventions. I point out that it doesn t seem very underground to walk around in 90-degree heat with flat screen televisions above one s head, and he laughs, though neither of us is sure why.
Samir, a muscular dude who looks to be in his mid-20s, has been in front of the convention center since about 8 a.m. that morning, an eight-hour shift. He says the backpack/flat screen combo weighs about 35-40 pounds. That s why I go to the gym every day, he says.
G/O Media may get a commission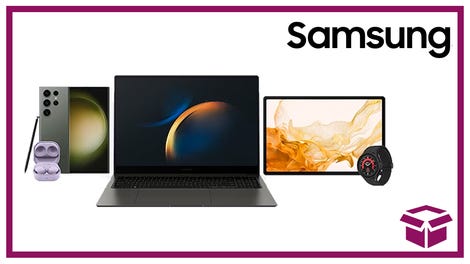 24 hour deals
Discover Samsung - Daily Deal
His friend doesn t seem like much of a gym rat; he s short, scrawny and trying not to gasp. I put out my hand to shake his, and he lifts and shakes like my dog.
How much longer you guys have to be out here? I ask.
Not long the smaller one says, and the evil part of me wonders if there s something I could steal from him. No way he d be able to catch me.