The finale to Will Leitch's Macworld coverage in which Will discovers the magic of voice command the hard way.

Among the Believers with Will Leitch
Frustrated by the endless line, I turn away and literally knock into a pimply boy with a tie that's way too big for him; it looks like a bib, or maybe a backwards cape. He is standing in front of a screen displaying Microsoft Word and the following phrase:
MY VOICE SOFTLY CHANGE QUITE A MATE FROM MY TRAIN BE GIVEN 9 NORMALLY YOU.
"What s this?" I ask.
He explains that this is the new iListen product, which allows you to talk directly into your computer and have Microsoft Word dictate your words, lest the act of typing strain one's hamstrings.
"That phrase doesn't make any sense," I say. "Either your product doesn t work right, or you have a most curious cadence."
He chuckles uncomfortably and mumbles something about background noise. I ask him if I can play with iListen for a moment, and he looks around for help, finds none, then reluctantly agrees.
G/O Media may get a commission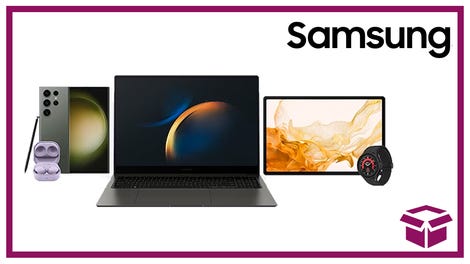 24 hour deals
Discover Samsung - Daily Deal
I turn to the microphone and am careful to speak slowly. "Hello. I am Will Leitch. I am here for Gizmodo.com. I am furious that the National League lost the All-Star Game last night. I am staying at a Howard Johnson s by Fenway Park, and it makes me feel very classy and special."
I watch at the screen lights up with my beautiful words.
HELLO AM LEASH I AM HERE FOR GIZMO DOTCOM FURRY NATION ALEAGUED LOST THE STAR GUMS NIGHT AM STAYING AT HOW WEIRD SON IS BEE FUNNY PARK IT MAKES CLASS SPECIAL.
I smile, the kid looks away and, all told, this class was special.
Exhausted already, I grab a sandwich, cookie and beverage for 12 bucks on special for the convention and then head back to my hotel room. Despite being armed with all this new techno expertise, I still can t figure out how to program the hotel television so it won t play "Hangin' With Mr. Cooper" on every station, all afternoon.
The End